Story
By December 31, 2025, our goal is to enlarge our Thailand career missionary team by adding 15 new high-quality career missionaries who will focus on evangelism and church planting at 15 new locations in Bangkok using the Santisuk English school/cell church model. Only 0.4 percent of the Thai people know Christ as their Savior, and the SES/cell church model has proven to be effective in both winning people to Christ and training up leaders who can then go out and help start new churches. As of July 1, 2019, four of the 15 new churches have been started and five career missionaries have arrived and are in language school and special training to start new locations. Thailand is one of the most unreached countries in the world, with the Thai being one of the largest and most unreached people groups in the world. Consider joining us short term, long term or career. Learn more at www.santisuk.org.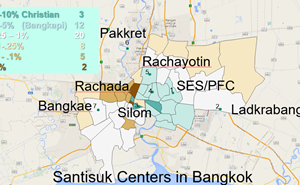 Bangkok, Thailand //
The last 4 sites were started as part of Bangkok 15/25. God is doing a great thing here. Join what God is doing - changing lives and starting churches - in Bangkok, Thailand.
Personal ministry funds
Donate to a missionary to help provide specific tools and equipment needed to advance local ministry.
Live out your faith today. Help take the gospel to the ends of the earth.