Story
Rick left a life of teaching and coaching to serve as a short-term missionary in the Philippines for a year in 1995. Ten years later he returned to the Philippines and began Karis Sports Fellowship; training pastors to use sports evangelism to impact their community. Rick set up a nationwide network to conduct coaching clinics and basketball camps more effectively. Myla retired as high school principal in 2010 to focus on her family and organize women's ministry in Quezon Province. In 2017 they agreed to lead the Thai Buddhist Initiative. The Thai Buddhist Initiative is on the move. A predominantly Buddhist country with 97 million people, Thailand is only 0.4 percent Christian. A truly unreached/under-reached place. Our team of American missionaries, Filipino church planters, short-term teams and Thai leaders are committed to change that. Our Santisuk English School/cell church model has a track record of success.
A gospel movement is beginning in Thailand and the Thailand Initiative is preparing to be a big part of it. One year ago, we had 5 missionaries working in Bangkok, a year from now we will have 14 in Thailand. A lot like the soccer team that we read about last Summer. Trapped in a dark cave, water rising, Thailand needs to be rescued.
We are ministering to the urban poor, reaching out to the sex workers of Bangkok, building a training center on the boarder of Thailand and Laos, strengthening our work in the Northern provinces, starting churches with English centers, sponsoring sports ministry, engaging the deaf church of Bangkok and maybe most importantly we have reenergized our relationship with long time Thai partners to train the next generation of Christian leaders.
We are passionate to see a gospel movement in our generation. Click the "support now" link on this page to join our network of individuals and churches that are committed to raising up workers, prayer, and getting the initiative fully resourced.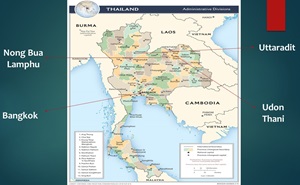 Asia //
Thailand: 69 million people who need to hear about Jesus.
Personal ministry funds
Donate to a missionary to help provide specific tools and equipment needed to advance local ministry.
Live out your faith today. Help take the gospel to the ends of the earth.