Story
A Converge Initiative targets a least reached people group and/or region of the world. These Initiatives are comprised of multiple, diverse ministry projects. There are 16 such Initiatives in Converge at this time with more planned in the coming years. As leader for the Nordic-Baltic Initiative, I oversee the direction, strategy, and engagement of the Initiative and serve the missionary staff. I help ensure our Nordic-Baltic Initiative is focused on catalyzing gospel movements and developing transformational leaders.
Our Nordic-Baltic region includes eight countries: Estonia, Latvia, Lithuania, Sweden, Finland, Norway, Iceland, and Denmark. As a region, we estimate that only around 2-3% of the population are followers of Christ. There is physical and spiritual darkness in this far northern region of Europe. Estonia is recognized as 86% atheistic (the most in Europe), and according to the BBC in 2011, "the least religious country in the world". On a Sunday in Stockholm, only 0.06% of the people attend any church.
However, there is hope! We have faithful missionaries serving in the region and in pre-deployment. There is growth and momentum in the region. Young people are taking hold of their faith and making great strides in their generation. We are encouraging national pastors, leaders, and spouses to carry on and resourcing them with theological training and church strengthening tools. We are training up young leaders to plant churches in small villages across southern Estonia. We are working to make in-roads for ministry engagement in Finland. We assist the financing and funding of church planting efforts and serving the underserved. And so much more.
We need more workers and encourage anyone with a heart for the nations to consider how God could use them in the Nordic-Baltic Initiative. Please pray for us and for the people of the Nordic-Baltic to have the opportunity to know and follow Jesus.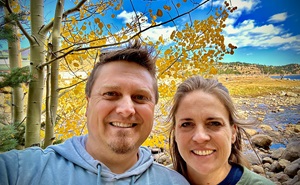 Nordic-Baltic Initiative Leader //
Our vision is to see thriving, indigenous gospel movements of disciple-making and church planting throughout the Nordic-Baltic.
Personal ministry funds
Donate to a missionary to help provide specific tools and equipment needed to advance local ministry.
Live out your faith today. Help take the gospel to the ends of the earth.