Story
The Nordic Project for Church Multiplication
Serving the Nordic Baltic: Sweden, Norway, Denmark, Finland, Iceland, Latvia, Estonia, Lithuania, and Russia
Certainty in Uncertain Times
War in Europe. Millions of refugees. Sweden rethinking its military strategy to join NATO - becoming non-aligned for the first time in its history. Unidentified drones flying over Stockholm. These are indeed uncertain times. We knew that three years ago when the Swedish government sent every household a booklet titled "What to Do in Case of War". How do we function in days such as these?
We do so by living in the certainty of God's promises. The Gospel remains true. The mission of the church has not changed. Jesus has declared, "I will build my church and the gates of hell shall not prevail against it." (Matthew 16:18) During these days God has opened so many doors for us. People are coming to faith. Churches are starting. Church planters are being coached and mentored. This time of uncertainty is one of the greatest opportunities for the Gospel that we have seen in our lifetime. And we are so honored to be called to serve.

In the last 36 months over 19,000 women from 50 nations have received Christ and said "Amen" to Jesus on the social media site we help administer with our partners at Mission International. We continue to teach and mentor church planters in Sweden, Finland, Latvia, Russia, Switzerland, and India. We serve as strategic consultants for M4 Europe - a Norway based church planter training organization now in 15 European nations. And the doors keep opening.
We thank you for your partnership - in prayers, support, and encouragement. We could not do what God has called us to do without you.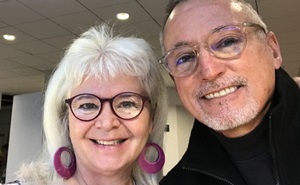 Sweden //
Based in Stockholm, Sweden, we serve Converge's heritage by helping Nordic-Baltic leaders facilitate disciple making and church planting movements. Why not partner with us?
Personal ministry funds
Donate to a missionary to help provide specific tools and equipment needed to advance local ministry.
Live out your faith today. Help take the gospel to the ends of the earth.