The Rock Family Center is a ministry started in 2010 by and Argentine couple, Martin and Carolina Rodriguez, to assist an impoverished community in Santiago del Estero, Argentina. It provides 120 meals/day five days a week for children. Two days a week they offer medical and nutritional assistance to those in their community. They have offer classes two times a week in carpentry and sewing to teach adults job skills. This wholistic ministry is bathed in an atmosphere where those who come can hear the gospel and be discipled.
Giving to this ministry not only supports Martin and Carolina Rodriguez, but it also provides food, clothing, school supplies, and other needs for this community.
When the 120 children come for their daily meal, they also hear a Bible story and have the opportunity to attend music classes. There is also a weekly youth meeting which they can attend as well as family Bible studies done in homes during the week. Please consider partnering with the ministry which reaches out to the "least of these".
Ways to give:
Online - give online using a credit card or bank account.
By mail - send the check to the following address. Write the project code 601502 in the memo line of the check.
Converge
Dept # 9930
P.O. Box 850001
Orlando, FL 32885-9930
Please contact us if you have questions about partnering with us financially.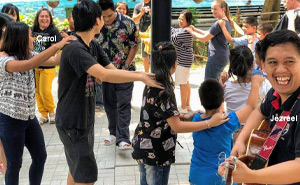 Argentina
//
A youth gathering at The Rocky Family Center