Refugees in Minnesota discover for themselves who Jesus is
Ben Greene
Pastor & writer
---
People in Ethiopia and South Sudan find themselves in increasingly challenging times. Peace and security seem to be ebbing away as darkness weakens the nations' agriculture, relationships and economies.
Gatluak Dieth, a member of the Nuer tribe, was born in what is now South Sudan. He fled in 1993 during war. Living in a refugee camp from 1985 to 1993 left Dieth traumatized, angry and hurt.
"God brought me a long way. When I grew up in a refugee camp, I had no hope. But my hope is the Lord Jesus," he said.
Since moving to Austin, Minnesota, in the early 1990s, Dieth has been on a journey of healing and reconciliation. "If we know God, we will have peace in our heart and peace in our community. If we become a true believer, God grants us peace through Jesus Christ."

A magnificent glimmer in the darkness
Dieth explained the Nuer and Anuak have lived throughout the same river valleys for many years. They often intermarry and are thoroughly interconnected in their daily lives. Now though, the relationships between those people groups are strained. The Anuak and Nuer are not the only two groups with conflict.
Thus, brokenness presses against hope with great force and variety. But, perhaps, the darkness serves to make the work of God glimmer with magnificence. Consider the deep, wide darkness before Christ's birth thrust a great light into the world. Centuries of God's cold silence blazed into noonday sun the moment the Son of God became the Son of Man.
At this moment, Converge leaders in Minnesota glimpse an opportunity. In the middle of modern-day traumas and tragedies, as a new generation of refugees struggles, Dieth meets each week with Bruce Adamson, Jill Anderson and other leaders doing disciple-making ministry.
Dieth, as a Nuer man, has an especially unique opportunity. He can share the gospel in deeper relationships with people from Ethiopia or South Sudan in Minnesota. And Dieth also travels to South Sudan and Ethiopia at least once a year.
"When I grew up in a camp, God did a lot of change in my life," he said. "I think my history may help those who are helpless right now. Maybe I can tell someone how I felt hopeless in a refugee camp."
These weekly meetings are designed to equip Dieth for a disciple-making ministry. Eventually, he hopes to make disciples who make disciples until a movement among the Nuer and other people develops.
"What was in my mind was hatred and anger."
This Converge initiative to create a disciple-making movement is known as From Scattered to Gathered. Currently, the work is a pilot project in Minnesota. But the initiative could someday expand to other cities with significant refugee and immigrant populations.
"The migration and scattering of the nations has been happening since the tower of Babel," said Adamson, Converge's From Scattered to Gathered initiative leader. "But God is also, through Christ, returning the nations to himself. He's moving them into places where they can have access to the gospel."
Those places are often America's urban centers. And many times, the people moving there have had extraordinarily little access to the gospel.
"God's behind that," Adamson said. "It's not random. Although there are many terrible stories of tragedy, they've come here, and God has given them a new vision for themselves and their families."
The first step toward advancing the vision for discipleship is peace and reconciliation, Jill Anderson said. She's on the weekly calls and has invested significant time in training from the Pilgrim Center for Reconciliation. That ministry, led by Jim and Annette Olson, uses retreats, courses and mediation to renew individuals and revitalize groups and communities.
God's behind that. It's not random. Although there are many terrible stories of tragedy, they've come here, and God has given them a new vision for themselves and their families.

That's where Anderson met Dieth: he was on his own journey of healing after the trauma of war, resettlement and other challenges.
"When I came [to America], I was very traumatized," he said. "Only war was in my mind. So, I didn't know where to go. I went through all the healing processes because what was in my mind was hatred and anger."
Both Anderson and Dieth believe disciple making can't happen at a significant level while people lack peace and reconciliation within themselves and with each other. So, their work now to make disciples begins with helping refugees and immigrants find peace and reconciliation.
"If there is no peace, you will not worship your God," Dieth said. "If there is no peace, then many other aspects of daily life will be missing."
Anderson added that many people are affected by the trauma and struggles. Battling despair, illiteracy and isolation make life incredibly difficult for these people.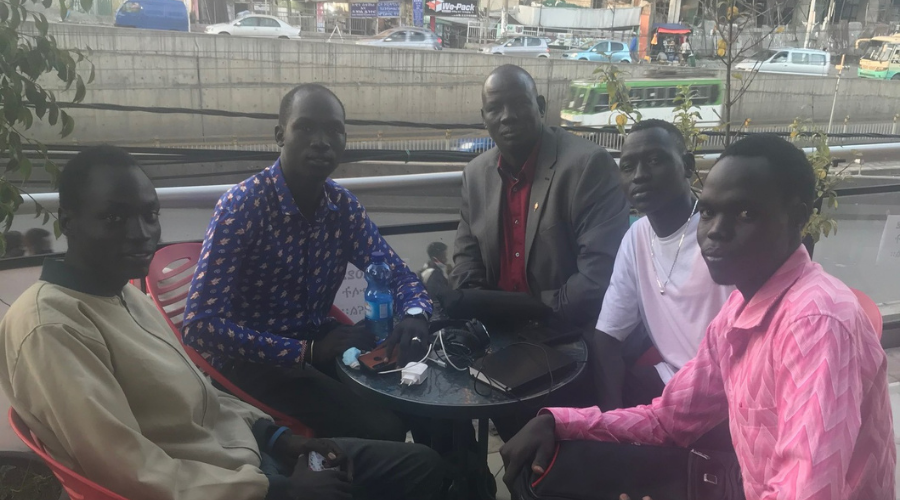 "People are discovering for themselves who Jesus is."
The Scattered to Gathered team is motivated by these struggles to start local so God's work can go global. Healing, reconciliation work is a step in that. Dieth is trained as a facilitator of reconciliation from the Pilgrim Center.
But Dieth is already starting to look for ways to make disciples as well. On his most recent trip to Ethiopia in October, Dieth met with young people in refugee camps. He used a tool called the Talking Bible, a solar-powered MP3 player that about 100 people can listen to at a time.
Discovery Bible Study is another tool Dieth uses in Minnesota and refugee camps. DBS is a method for asking questions to understand the Bible and apply it to your life. Adamson described the study method as "the engine" of the disciple-making movements From Scattered to Gathered can create among unreached peoples.
"There's a real radical trust in the power of God's word and the power of the Holy Spirit to give insight to people who are being exposed to the word of God for the first time," Adamson said. "People are discovering for themselves who Jesus is."
Until Dieth can return to Ethiopia, he's using WhatsApp to connect as much as possible with the people he met in Ethiopia on this latest trip.
The troubles in Ethiopia and South Sudan are worse than when Dieth was younger, he said. But he hasn't lost hope, knowing that God's power and love continue to be greater than all of life's many troubles.
"I love to go back and help out and do more with unreached people," he said. "I love to encourage them to keep faith in the Savior Jesus Christ."
Is your church interested in joining others in supporting initiatives such as From Scattered to Gathered to reach the world with the gospel? Does your church have a heart for global ministry or ministry to a specific region of the world? Check out how you can team up with other churches to provide prayer support and deploy resources of all kinds to share in the work of the Great Commission.
---
Ben Greene, Pastor & writer
Ben Greene is a freelance writer and pastor currently living in Massachusetts. Along with his ministry experience, he has served as a full-time writer for the Associated Press and in the newspaper industry.
Additional articles by Ben Greene
---