LOVE GOD. LOVE PEOPLE
Jenny Bolinger
Converge MidAtlantic Communications and Global Outreach Manager
Church strengthening

//

Latest news
---
During this pandemic, we have watched churches throughout our district share hope, provide support, and show love to their community, their city, and the world. We are thankful for the commitment to put love to work in creative ways.
These are some of the unique and creative ways Converge MidAtlantic churches used to proclaim the good news amid challenging circumstances created by the coronavirus pandemic.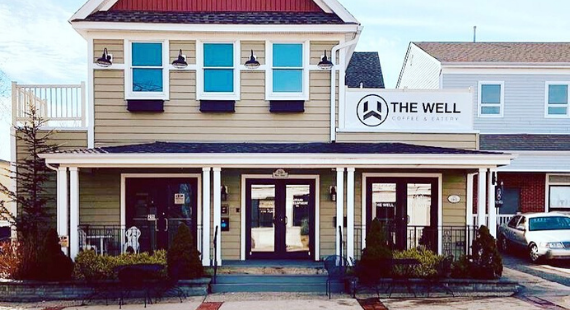 Wellspring Church
Toms River, NJ
A pandemic didn't stop Wellspring Church from opening a coffee shop. While continuing to serve the people of Toms River, Wellspring Church grew in size and grew in passion for its mission. In January of 2020, it was clear that to continue the mission Wellspring would have to think out of the box. The dream was to create a local coffee shop that offered unbelievable coffee, awesome food, and genuine love. The coffee and eatery would fund the ministry of Wellspring Church as they desire to continue their mission and start-up additional locations. In March of 2020, The Well Coffee & Eatery was launched!
Last week, Wellspring Church partnered with Just Believe Inc and supplied 50 meals to those experiencing homelessness in their community.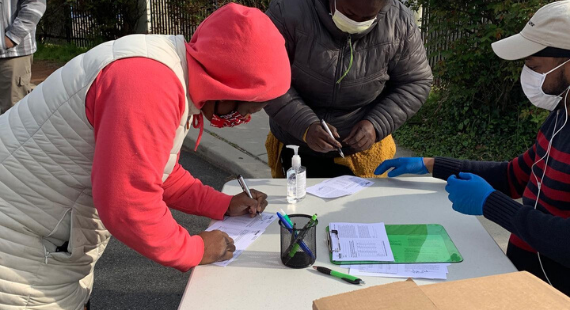 Christ Baptist Church of Delaware
Wilmington, DE
Christ Baptist Church partnered with Food Bank of Delaware to provide meal boxes for households in need during the month of April. It was a great way for the leaders to serve the community.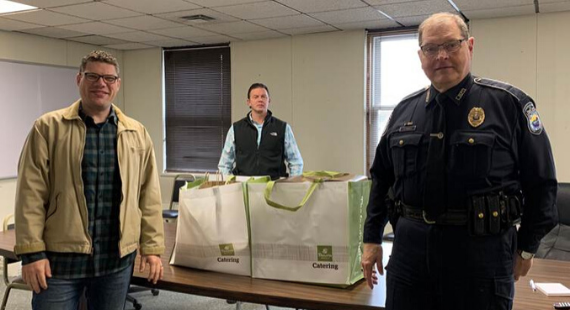 Lakewood Baptist Church
Lakewood, NY
Lakewood Baptist Church in Lakewood, NY recently partnered with the local Panera Bread cafe to bless the Lakewood-Busti Police Department with lunch as a 'thank you' for their dedicated service to our community. Law enforcement isn't an easy job when there isn't a virus going around, so it must be even tougher when there is. They delivered box lunches for all the officers working over the span of 24 hours beginning with the first shift on Friday, April 17th.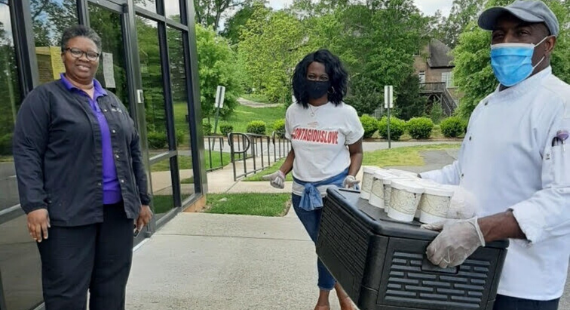 New Beginnings Community Church
Matthews, North Carolina
New Beginnings has created a #ContagiousLove Campaign. It is a way for the church to extend God's love to others and help provide encouragement and appreciation to frontline and essential workers and businesses. This week, Rev. Twanna Henderson helped deliver lunch to essential workers at Sunrise Academy Daycare.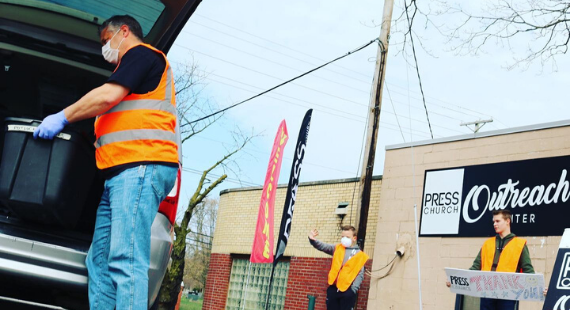 Press Church Outreach Center
Delaware, OH
Press Church is the newest congregation in Converge MidAtlantic. Pastor Sean Lee and his team were preparing to launch later this year. Rather than lose momentum during the health crisis, the launch team decided to have their first public, worship services on Easter Sunday streaming online. Press Church still looks forward to finally meeting together for worship in-person. In the meantime, hundreds of people are already joining online for worship and small groups.

They are also serving their community by partnering with Common Ground Free Store to help with groceries every Tuesday. The church is able to maintain everyone's safety and social distancing procedures. People simply drive into the parking lot, open their trunk, and volunteers from the church unload the groceries. Common Ground then makes "emergency bags" and meals for people in the community.
Grace Point
Newtown, PA
One creative way that Grace Point is inviting their community to church is by providing yard signs to anyone that wants to come get one and place in their yard. A great way to take this unique opportunity to share Grace Point with their neighborhoods and community.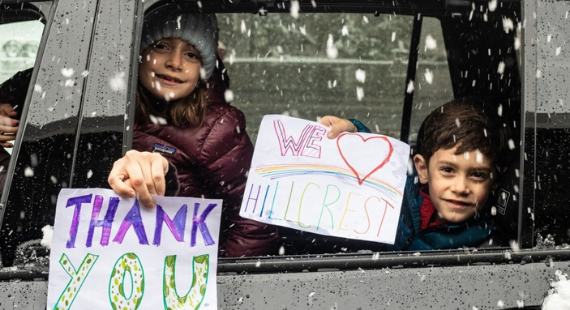 Hillcrest Baptist Church
Jamestown, NY
Kids are missing their friends and teachers. Hillcrest was creative in solving this issue. One day they had a "Preschool Parade." Thirty-seven families visited the snowy parking lot. Despite the cold weather, the kids waved to their teachers and picked up take-home materials. It was a win-win for everyone!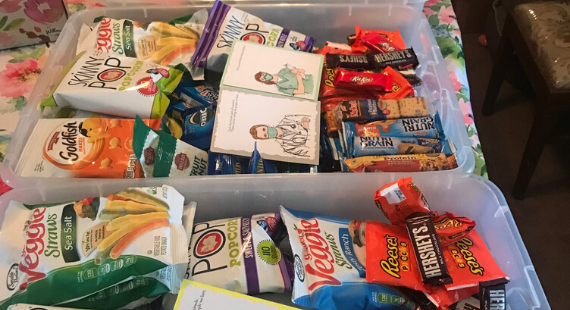 Restoration Church
Levittown, PA
Restoration was able to partner with Philly Pretzel Factory and show love to Jefferson Bucks Hospital for their commitment to saving lives. The church was able to provide snacks, drinks, and beautiful cards to the heroes at the hospital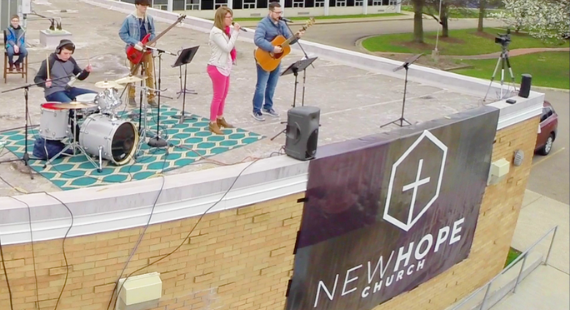 New Hope Church
Wooster, OH
On Easter Sunday, Triway High School let New Hope Church use its property to host a
drive-in service
. The school's parking lot was nearly full as the church and community came together to celebrate Jesus.
With the worship team and pastor Tim Broughton stationed on the roof of the high school, the church broadcast the music and sermon into people's car radios with an FM transmitter. New Hope also livestreamed the service on its website, YouTube and Facebook for people who did not feel comfortable attending the drive-in service.
God showed up in many ways as people filled out online connect cards — saying yes to Jesus and rededicating their lives to him.
"It was so fun being able to 'be together' and having everyone honk their horns in praise and joy over their Risen Savior," said Broughton's wife, Nikki, director of connections, women's and kids ministry. "Definitely a first for our church and a first for our schools and community."
---
Jenny Bolinger, Converge MidAtlantic Communications and Global Outreach Manager
As Converge MidAtlantic's Communications and Global Outreach Manager, Jenny Bolinger implements communication strategies for Converge MidAtlantic. She also works closely with Converge International Ministries to provide global outreach resources for district churches. Jenny graduated from Taylor University. She has served in a variety of capacities within the local church over the past 15 years. Before coming to Converge MidAtlantic, she was served as Director of Outreach.
Additional articles by Jenny Bolinger