Story
Tribes Church is all about helping people find and follow Jesus by doing 3 things:
Gather - We Gather into Gospel-centered community.
Scatter - We Scatter to make an impact in our church and world.
Multiply - We Multiply by making disciples who become disciple makers.

We want to live out the call of the church in Ephesians 4:11-12, to "...equip the saints for the work of ministry." This happens as people find their Tribe (what we call a small group) and are invited to grow in Christ together. Each Sunday, we want to be a gathering of Tribes serving and worshiping together...not just a service that people attend. For this reason, we mark out another hour after our worship services where child care is still provided, and adults (and kid's in their age appropriate environment) break into their Tribe to apply what they just heard through group discussion, continue to dig into Scripture, and take the Lord's Supper together.

It is our heart that part of the Multiply process in our mission statement would mean that we are not just a growing church, but a sending church. We have a goal to plant 5 more churches in the booming Dallas / Ft. Worth area in the next 10 years with pastor's who are raised up and sent out from our church.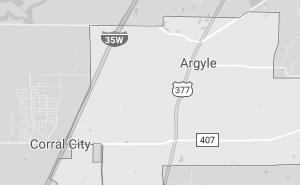 Argyle, Texas //
Argyle is located in Denton County just north of Ft. Worth and west of Flower Mound.
Live out your faith today. Help take the gospel to the ends of the earth.