Story
Matthew 9:38 says – "So pray to the Lord who is in charge of the harvest; ask him to send more workers into his fields."
About seven years ago, a church in Paramus, New Jersey, grew in a desire for church planting and started praying this Matthew 9:38 prayer for their church and community. Around that same time, God began to stir in my heart and in Cara's heart to consider planting a church somewhere in the Northeast, but we didn't know what to do with it at that time. Then, six years later, God made it clear to Cara and me that it was time to go northeast. We prayed, sought counsel, kept taking steps to obey God, and it led us to apply to Church at Bergen in Paramus. Originally, we applied for a worship pastor position, but after a couple of months of conversations, we were asked to consider planting with them instead. At this point, both Cara and I knew that God was definitely in this. As of March of this year, we were partnered with Converge Church Planting Network and Church at Bergen to work toward planting in a New Jersey urban center in the New York City metropolitan area.
Lord-willing, in September, Cara, I and our two girls will move near Newark, New Jersey, to begin a church planting residency through Church at Bergen and train, recruit, pray and work toward planting a church in the next two years. We would love to mobilize a multiplying family of churches that brings people far from God to Jesus in New Jersey's city centers.
Little did we know that God was going to answer the Matthew 9:38 prayer of a group of elders in Paramus, New Jersey, by sending us. We are humbled and excited to be a part of God's work to bring spiritually dead people to life.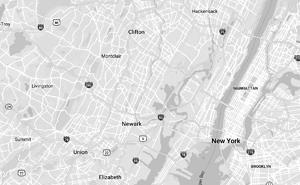 Northeast New Jersey //
We would like to plant a church in one of these six cities: Paterson, Jersey City, Rutherford, Elizabeth, Newark and Hackensack.
Live out your faith today. Help take the gospel to the ends of the earth.