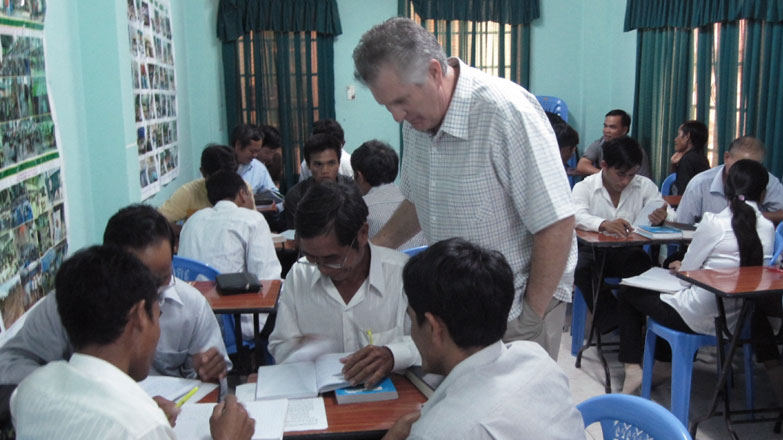 ConvergeViet School of Church Leadership
Building healthy Vietnamese churches across the United States.
Starting and strengthening Vietnamese churches
Founded in 1996 as the BGC Vietnamese, ConvergeViet USA Ministry includes more than 22 churches and seven ministry groups nationwide. During the past two decades, our churches, pastors and members have faithfully made disciples by starting and strengthening Vietnamese churches. As Vietnamese churches have launched, leaders are inevitably needed. As a result, ConvergeViet School of Church Leadership (CVSCL) was established in September 2015, under the leadership of the VMET team (Vietnamese Ministry Extension Team).
Vision
We believe that God will continue to bless our movement's vision of being "the fastest church planting movement of healthy Vietnamese churches." CVSCL is becoming a main powerhouse model for healthy Vietnamese churches to meet the growing need of this movement.
Mission
By strategically engaging teachers within the Converge movement (District Executive Ministers, local Bible teachers, and Bethel staff) and carefully recruiting ConvergeViet students, together with a biblically based, contemporary curriculum, CVSCL seeks to annually produce Bible students who become ministry partners with CV local churches after their graduation through internship. Upon their mentors' recommendation for the Converge Assessment Center, we are hopeful that these students will become our next church planters. From start to finish, this process will take somewhere from 2 to 4 years. Presently, our school does not offer any degree.
Core Values
CVSCL currently operates under an Interim Dean, a teaching faculty of three DEMs and three CV Board members. Our online teaching classes and homework system requires students' utmost integrity in watching the entire video(s) and submitting their required homework for grading. We encourage students to live an exemplary life as Christ-followers who embrace a sacrificial life of service to God and others. In addition to adhering to the Converge Doctrinal Statement and ethical practices of the local church, CVSCL will include Vietnamese cultural relevance when appropriate, provided there is Biblical support regarding all matters.
Support
CVSCL is currently supported in prayer and finance from our CV churches and District Offices where there are Vietnamese churches. We do not yet have an office or building for CVSCL.

Not one of us was built to do life alone, that's why God created the Church! Ministry is doubly hard, that's why we are better together!"
Linn Winters, Cornerstone, Chandler, AZ