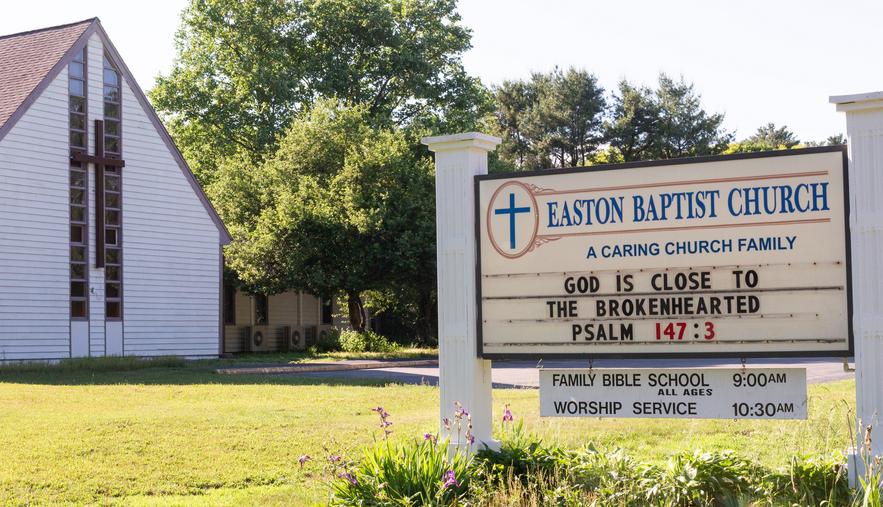 Part-Time Director of Youth Ministries
---
About Easton Baptist Church
Our Church:
Easton Baptist Church is a multi-generational and multi-cultural church with the vision: To know Jesus, to love Jesus, and to share Jesus. Our warm and welcoming atmosphere allows us to carry out our mission: To grow as a genuine compassionate church family (God-fearing, Christ-loving, Spirit-led) that shares God's love with our family, friends, and neighbors while together finding relevant answers to life's questions.
Job description
Youth Group Responsibilities and Duties:
Work collaboratively with staff and other ministry leaders to include youths in all aspects of Easton Baptist Church.

Lead weekly Youth Group meetings, in person and online as appropriate, that promote fun, fellowship, and spiritual development.

Coordinate special events for outreach, service, and discipleship which provide the opportunity to know and be known by others, including the Annual Retreat.

Regularly attend and possibly teach Family Bible School on Sunday mornings before worship.

Identify, enlist, and mentor a student leadership team that will act as leaders to their peers in the Youth Ministry.

Actively build relationships with our teens by being accessible to them, providing them with opportunities for sharing and accountability, and encouraging them to develop their relationship with God.
Recruit, train, and manage the Youth Ministry volunteers and leaders meeting together for prayer and planning purposes as needed.

Effectively communicate with families and the church regarding upcoming events, important information, and the progress of the Youth Ministry.

Explore the possibility of overseeing a program for elementary age children.
Spiritual Development:
A willingness to work alongside of and to be a team player as evidenced by attending a Leadership Ministry meeting once a month as well as with our Senior Pastor once a month.

Carry out and support the values of Easton Baptist Church in relation to the Youth Ministry.

Participate in an annual review which will be conducted for encouragement and accountability.
Participate regularly in the worship and teaching ministries of Easton Baptist Church.

Attend a Spiritual Formation Conference or Youth Training Conference at least once every other year for own spiritual walk and ministry skills development.

Complete other duties as assigned.
Qualifications:
The candidate will possess a heart for Jesus, a heart for youth, and a desire to serve.

A Christian with a personal, active, and growing relationship with Jesus.

Conducts life in a Christ-like manner and demonstrates high Biblical standards (including social media postings).

Passion for and ability to work with Middle School and Senior High Youth.

Ability to work flexible hours, including some evenings and weekends.

Proficiency in technology and social media in multiple platforms preferred but not required.
Education and Experience:
A minimum of a bachelor's degree is preferred, but willing to consider candidates with relevant experience.
Prior experience in working/relating to teens in both small and large group settings is required.
Apply
Time Commitment:
Part-time: minimum of 20 hours per week.
Compensation and Benefits:
Compensation to be discussed based on experience.

Three-bedroom house with appliances and utilities in North Easton, Massachusetts provided.
Church's website: http://www.eastonbaptistchurch.org
Church's Facebook page: https://www.facebook.com/ebcpage