Who am I?
Ben Greene
Pastor & guest writer
Point Magazine // September 2022
---
Karina Nelson learned how to start campfires, hunt and fish during Minnesota summers with her cousins. There, she first delighted in brats, a German delicacy that spread to the upper northern U.S. barbecues that have become popular everywhere.
However, during the school year, she lived with her Converge missionary parents, Dan and MeLinda Nelson, in Guadalajara — the Silicon Valley of Mexico — eating molletes and tamales, which she delighted in at least as much as brats.
Serving first in the U.S., her parents planted a Colorado church among Hispanics before becoming global workers in Guadalajara. Unknown to her then, Karina was becoming a third-culture kid (TCK), growing up in the Swedish culture of her parents, living in Mexican and American cultures and being fluent in multiple languages. Eventually, she would learn how becoming a third-culture kid impacted her life and that of her missionary friends.
At the time of the move, Nelson was a 7th grader, a new student in Guadalajara among children from affluent Mexican and Korean families.
"I'm very Scandinavian on the outside, but on the inside, my heart is definitely Latina," she said. "When you're growing up in Mexico as a child, and you're developing and creating your worldview and personality, you're absorbing that culture as well."
Nelson grew up as what some people call a "Third Culture Kid," being raised in a culture other than her parents' or the culture of their country or nationality.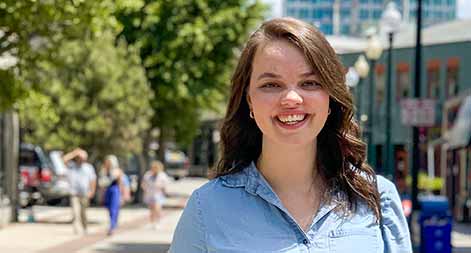 Inspiring others but feeling isolated
Nelson also absorbed an identity tied to her parents' role as global workers in the community. Her family did ministry together, so they contributed according to their faith, opportunities and gifts.
On the one hand, she demonstrated compassion, proved herself adept at social situations across cultures and quickly became a trusted confidant of classmates who suffered from anorexia, bulimia, alcoholism, unhealthy relationships and cutting habits.
"I had this desire for my classmates to know who God is," Nelson said. "There just became a passion for me to share the gospel and to share a relationship with the Lord and the hope that there is in life."
On the other hand, she said she sometimes felt as if she were living on a pedestal, inspiring others while feeling isolated. Starting in middle school, she remembers feeling pressure from two directions: Mexicans looked up to her family, but at the same time, she worried about disappointing supporting churches — and sometimes even God.
Several years later, Nelson experienced symptoms of seasonal anxiety and depression.
Her 'grief tower' collapses
After finishing high school in Guadalajara, Nelson enrolled at Liberty University in Virginia. She was a high-performing student and a leader in her residence hall.
But Nelson had previously suffered from seasonal anxiety and depression, which are common among third-culture kids. The pressures she felt as a student leader at Liberty increased her anxiety and depression so severely that her "grief tower" collapsed.
She explained that such a tower holds together years of losses, goodbyes and unachievable expectations. Inside the heart of a third-culture kid exists a disconnection from extended family and the insecurity created by the challenges of a transitional cross-cultural lifestyle. That tower eventually falls apart for most third-culture kids, usually in college or young adulthood.
In Nelson's case, she took a semester off to work through the consequences of growing up as a third-culture kid. Moreover, she encountered what most young adults do: a season of self-discovery bounded by past activities and future possibilities.
"Who am I and how do I belong in this culture, and where are my people?" she wondered.
Misery turns into ministry
Nelson's misery has turned into a ministry. She's currently Converge's member care specialist for third-culture kids in countries around the world.
While Nelson finished college and served youth at a South Carolina church, she built relationships with missionary kids. She connected with them as they moved to college and found their grief towers wobbling and collapsing.
Nelson noted that 90% of missionary kids struggle with mental health and don't get help. She said they don't recognize what they're dealing with, don't know how to get help nor believe it's acceptable for missionary kids to have problems.
She remembers having several conversations with her dad about third-culture kids' needs. Converge had a member care team for global workers in place, but the challenges of third-culture kids motivated Nelson to do more.
"This is everything I am passionate about," she said. "[It's] what I had always hoped Converge would do."
Nelson is raising financial support to walk alongside third-culture kids in missionary families. She will help them thrive while demonstrating the empathy of someone who was a third-culture kid (and is now a third-culture adult) herself.
Why parents and kids appreciate Karina
Hope* knows Karina Nelson's empathy and resources benefit kids. She and her husband, Philip*, live in Southeast Asia with their four children.
"I was really thankful (for Karina's help) because I felt like I wasn't the only one thinking about my kids," she said. "I can ask Karina for advice. She will have even more perspective as a TCK herself."
Since July, Hope and Philip and their four kids have been on home assignment in the U.S. Hope said her children don't fully understand the American culture since they've been away for three years. They're sometimes ignorant of pop culture references. Plus, they've had wildly different experiences of school, fun and faith.
"Karina has helped them to have conversations with kids and ask questions to build connection points," Hope said.
Nelson has also helped Hope and Philip's 11-year-old daughter, Xitlali*, process her feelings stimulated by living in another country and adjusting back to the United States.
Nelson understands the feelings. She's faced them herself.
"When we came back to our host cultures, like back to the United States, I was expected to understand everything about American culture," she said. "I was expected to behave a certain way and understand certain cultural norms like the T-shirts that you should be wearing," she said.
And as much as the parents appreciate Nelson, she is loved just as much by their kids.
"It's cool knowing that there's actually someone out there who is able to be there and help us when we need help," Xitlali said.
Equipped by God to help the next generation of missionaries
As Nelson inched closer to becoming the member care specialist for TCKs, she said the Lord was speaking.
"I have given you a unique journey and skills and talents," she heard from him, "so that you can help the next generation of missionaries."
There's a lot that she had to figure out on her own. But there's also plenty that she received from a supportive family, churches, mentors and other influential adults.
As she incorporated all she's received into her growth, a vision for caring for the children of global workers came together.
"God has given us really unique skills and tools that we can use to leverage in ways that are outside the box," she said. "The heart of our ministry is helping TCKs understand who God has created them to be."
Sisters adjust to life in Japan
In March, Chloe and Hannah Lusky moved to Tokorozawa, a Tokyo suburb. Their parents, Brian and Rachel Lusky, are directors of Converge's Japan Initiative, a team working to strengthen a gospel movement among the least-reached people of Japan.
For Chloe, 12, and Hannah, 9, their first six months in the island nation included their third new school in one year, plus visiting churches and trying unusual foods.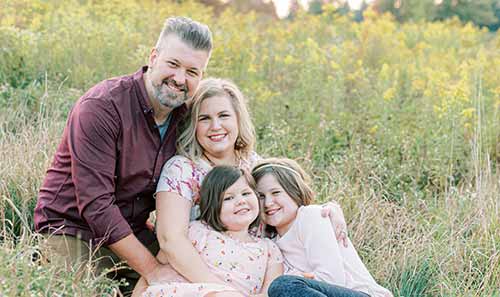 Then, there's the onsen — public baths where everyone is naked.
"It's very normal in Japan, but it's very unlike America," Hannah explained of the gender-separate spaces for relaxation.
Some discoveries came naturally, like Hannah's love for chicken and white rice, which means she has a go-to meal. Other bits of help have been seeing the country's temples and architectural and natural sights and trying various unfamiliar foods.
Still, their adjustment to life on the mission field hasn't been a day at Disney World.
There's stress when trying to find a church as the new people in town. Moreover, some churches, but not all, offer translation into English. That's a challenge for a family learning Japanese.
"While I'm here, I'm getting more and more stressed," Hannah said.
On the family's faith and worship life, another initiative leader shared with Brian the value of bringing spiritual experiences into their home. To that end, Chloe and Hannah both said the Bible app devotions about anxiety help with nervousness and stress. The family also worships in the home and learns to follow Christ, inviting friends to Vacation Bible School or praying together for Japan.
How churches can help third-culture kids
The Luskys met Karina Nelson in November 2021 as they attended Converge's Missionary Discovery and Assessment.
Chloe and Hannah value what a member care specialist focused on third-culture kids can offer.
"It would be good to have someone who could help me when I was feeling stressed," Chloe said. "Somebody I could talk to and let all my problems out to, on top of talking to my parents."
Nelson said churches or people could help third-culture kids through prayer, raising funds for TCK advocates like Nelson and becoming partners in caring for missionaries. She added that forming intentional connections to understand the experiences of third-culture kids is a specific way to support them.
Chloe sometimes feels sad and lonely, yet she's learning to depend on God more while she doesn't have friends nearby. Similarly, Hannah misses her family in the United States and often feels sad in those moments.
"I would love to call on somebody to support me for the hard times," she said.
'When kids thrive, parents thrive'
Converge has more than 90 missionary kids in 29 countries. So, Nelson said, the ministry is trying to deploy TCK advocates to each region where third-culture kids live.
"That's a big area to try and cover," Nelson said. "We're trying to find advocates and volunteers to make sure we're able to be effective."
Some Converge global workers have volunteered to support the movement's third-culture kids: Melissa Alderman, raising three daughters in Togo with her husband JJ; Jenny Valentine in Poland with her husband, Steve, and their children; and Amanda McMains, who serves families in Europe and the Mediterranean region.
Mike Gaston, Converge member care team director, remembers raising his daughters in Cameroon and France while he and his wife served as Converge church planters.
In France, he realized he didn't understand the unique world of third-culture kids like his daughters.
"How do I be a dad in this situation?" he recalled asking. "How are we going to handle the stresses they feel?"
He said Converge's third-culture kid ministry under Nelson addresses some of those challenges by helping the children and the parents.
"When kids thrive, parents thrive," he added.
Nelson said when the children succeed, Nelson said, the parents can be influential in their ministry and the kids are set up for future achievements in line with whom God made them to be. When there is a gap in resources and support for our global workers and their TCKs, it can have lasting effects on the health of the family and their ministry.
"By providing that support, we're helping our missionaries be healthier and thrive as individuals and people," she said.
Impacting the world in really cool ways
Despite the disorienting moments, Nelson discerns remarkable value and tremendous potential in herself and other third-culture kids. Accepting and understanding herself as a TCK has made her a woman who can embrace her life's positive and negative aspects.
"What I've learned is, when we are thriving and we are healthy, we can use the experience and the skills ― and even the challenges ― to be able to impact the world in really cool ways," she said. "Being a third-culture kid is a hard, messy journey that has a lot of potential for really cool things to come out of it when we can navigate it in a healthy way."
*Some names in this article were changed for security purposes.
---
Ben Greene, Pastor & guest writer
Ben Greene is a freelance writer and pastor currently living in Massachusetts. Along with his ministry experience, he has served as a full-time writer for the Associated Press and in the newspaper industry.
Additional articles by Ben Greene