Let's get personal
Scott Ridout
Former Converge President
Point Magazine // September 2018
---
I travel a lot in my job. In fact, the transportation I use permits me to spend a great deal of time with complete strangers. I have found this scenario to be both good and bad.

It is good because I get the privilege of hearing people's stories and engaging them in spiritual conversations. It is bad because when they find out what I do, it often brings an abrupt end to our discussion.

So, I lie.

Well, not exactly. I decided that full disclosure of my role does not foster engagement. So, when people ask me what I do, I tell them I am a "consultant who tries to help churches get better." (That is not a lie, right?) Explaining what I do from this angle has resulted in abundant and rich interactions.

I met Bertel on the flight from Stockholm to Frankfurt. Like many Swedes, he sees the church as irrelevant, but is glad to hear that I am trying to do something about it.

During the nine-hour flight from Frankfurt to Orlando, Erika sat beside me. She went to Germany for back surgery and, like me, is from Orlando's Lake Nona area, where she and her boyfriend recently purchased a house. Although their backgrounds are Catholic and Jewish, she was intrigued by the idea that we are starting a church in the area.

As I waited for luggage, Ron told me he is an elder in a dying church with an aging congregation, and we talked about what they might do to change the trend.

Different people, different responses. Callous. Curious. Committed. Paul experienced these same responses when he spoke in Athens (Acts 17:32-34), and I imagine you do too.

Regardless of the responses, we are privileged to share Christ in the power of the Holy Spirit and leave the results to God.

In this issue of Point magazine, we will explore further our Each One Reach One initiative. Our prayer is God will allow each of us to have meaningful interactions that help people meet, know and follow Jesus. Enjoy!
---
Scott Ridout, Former Converge President
Scott served as president of Converge from November 2014 through August 2022. Prior to that he was the director of generosity for Converge from 2007-2014, concurrently with his time pastoring at Sun Valley in Gilbert, Arizona, for 22 years. He serves on the boards of Axelerate, Bethel University and The Timothy Initiative. Scott also serves the Finish the Task initiative working with denominations worldwide. He and his wife, Lisa, have been married since 1988 and have three adult children, Jon, Ashlyn and David. He loves God, the local church and simply wants to help people meet, know and follow Jesus.
Additional articles by Scott Ridout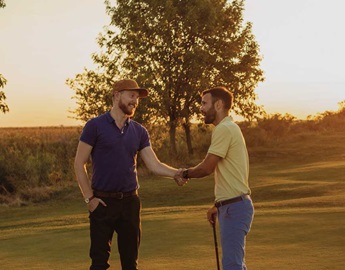 ---