How God transformed the lives of two men from India
Michael Smith
Former Converge Content Specialist
Point Magazine // September 2018
---
Distraught over a failed nine-year relationship with his girlfriend, Suresh Gaikwad finally decided to surrender his life to God in fall 2013.
The first thing the Lord told him to do was to leave India and go to America. Suresh had tried to come to the United States in 2001, but his visa application was rejected. Through what he calls "divine intervention," this time his visa was approved.
On Jan. 23, 2015, Suresh arrived in America, specifically the Chicago suburb of Homewood, Illinois. During his flight, he promised God that he would attend church every week.
When I [took] my first step in the church, I knew I was home," Suresh says. "That peace that surpasses all understanding came into my heart.
The next week, on a Friday, Suresh was walking around Homewood – he didn't have a car – and happened to pass by Woodlands Community Church. He met lead pastor Daniel Wentworth and decided to come back for the worship service on Sunday.
He woke up to a major snowstorm – about 10 inches – on Sunday morning, but he wanted to keep his promise, so he walked to Woodlands. He is so glad he did.
"When I [took] my first step in the church, I knew I was home," Suresh says. "That peace that surpasses all understanding came into my heart."
Suresh soon became a fixture at Woodlands, attending the service every Sunday, taking part in the church's 21 days of prayer and fasting, and joining a small group. Pastor Daniel even let him live at the church because he was living in a two-bedroom apartment with 10 other people.
At his work, Suresh met Ram Tangirala, who is also from India. One night while driving Ram home from work, Suresh was able to share his faith story and ask Ram if he was a Christian. Ram said he had received Jesus as his Savior but hadn't been living for the Lord. Ram accepted Suresh's invitation to join him at Woodlands Church.
"I believe God used Suresh to change my life," says Ram, who has earned a master's degree in computer science in December 2017.
After Ram started attending Woodlands, Suresh asked him if he needed to get baptized. Ram decided he would get baptized, but after making his decision he got very sick. Ram decided he wouldn't let his illness prevent him from getting baptized, so on April 29 of this year – feeling well again – he was baptized by Suresh.
"I'm still in awe. I feel like I don't deserve to baptize anyone," Suresh says. "I don't feel worthy [of] that."
While he was talking with Ram about baptism, Suresh also realized he needed to be baptized, as he didn't remember his baptism from when he was 4 years old. So, right before he baptized Ram, Suresh was baptized by Pastor Daniel.
Suresh is so thankful for all that God has done in his life since he came to America – he married his wife Mandy, who he met at Woodlands, in 2016 and they had their first child in 2017 – and wants to share his story with as many people as possible.
"I give my all to God and it is still nothing compared to what he gave to me in these three years and what he did for me in all my life."
Read more stories of life transformation at Woodlands Community Church:
I gained hope and faith
Illinois family receives spiritual, emotional healing
---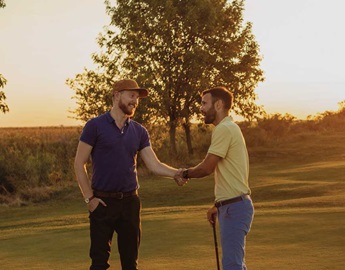 ---