Story
The rivers of the Reformation run through Prague, Czech Republic. Martin Luther wrote this of Czech reformer Jan Hus: "I was overwhelmed with astonishment. I could not understand for what cause they had burnt so great a man, who explained the Scriptures with so much gravity and skill."
Now modern day Prague and Czech Republic, having lived through dynasties that were not favorable to Protestant thought, an invasion of the Nazis and then nearly 50 years of communism, boast about being the most atheistic nation in all of Europe, if not the world.
Yet we believe those seeds of the Reformation are still here, buried deeply in the painful history of this country. We also believe that God has called us to be part of His story for this amazing city, country and continent as we serve as missional insiders (in the American football community) embedded within the Czech culture. We seek to see networks of missional communities developed as a part of a wider church planting movement focused on life on life discipleship. An integral part of that discipleship is serving and being on mission together. We do this by serving the marginalized through outreaches to the homeless and individuals caught in human-trafficking.
We are a Czech-American couple who is committed to building relationships, planting gardens, allowing our roots to go deep, giving our sons (and maybe daughters) in marriage, multiplying and not decreasing, while we seek the welfare of Prague and pray for her peace. (Jeremiah 29:4-7) It is our prayer that God would reach the Heart of Europe, Prague and the Czech Republic, and that in reaching the Heart of Europe, those seeds of the Reformation would begin to grow and that Jesus would once again be made much of on this continent.
Would you prayerfully consider partnering with us in prayer, financially or even joining us to continue to be part of God's story for Prague and the Czech Republic?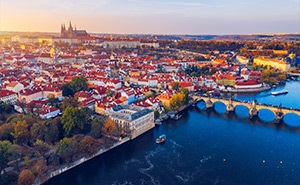 Prague, Czech Republic //
"Saints peek out from alleys. Angels fleck the skyline. In stone & marble, blackened and grizzled, God's mysteries reside in this city's baroque architecture. But try finding him in the skeptical Czech soul." - Jeffrey Fleishman
Personal ministry funds
Donate to a missionary to help provide specific tools and equipment needed to advance local ministry.
Live out your faith today. Help take the gospel to the ends of the earth.