My story
Christopher and Angel are appointed Initiative Leaders for the Republic of Ireland with a vision for a gospel centered movement to the least reached people groups by developing strategies of multiplication through church planting, training and discipleship.

As Initiative Leaders, we will be recruiting a team of Converge Missionaries to head into the field as well as establishing relationships with local and regional church leaders.

Evangelical numbers have grown over the past 10 years in Ireland but only stand at around 0.75% of the population. This is still the lowest percentage of any country in the English-speaking world, meaning 99% of Irish citizens have not experienced a personal relationship with Jesus.

We would highly value your partnership in furthering the Kingdom as we bring the gospel to the unreached people in Ireland.
Goals:
By 2020, develop a strategic plan in how we will launch a 5-year vision to equip and train churches in revitalization, strengthening & planting.
By 2023, to be equipping pastors, church leaders and members to multiply the gospel through discipleship and evangelism to all unreached people groups.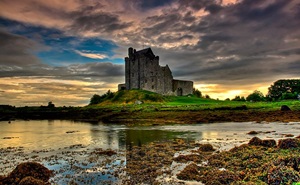 Ireland //
We are asking God for a gospel centered movement among every least-reached people group in our generation.
Personal project fund
Donate to a missionary to help provide specific tools and equipment needed to advance local ministry.
Live out your faith today. Help take the gospel to the ends of the earth.