Story
Ann is passionate about seeing followers of Jesus be fully equipped to know him and make him known. Over the past 37 years, Ann has enjoyed serving on the pastoral staff of three churches and as an adjunct professor at two seminaries and one Bible college. Her life has been invested in growing disciple-makers and equipping people for ministry. Currently, Ann serves as an Affiliate Faculty at Sioux Falls Seminary equipping leaders for ministry through online, competency-based theological education.
As Director of Training for Converge International Ministries, Ann will serve on the Mobilization Team, using her gifts and training to equip Converge IM global workers for their specific ministries around the world. Working together with the leadership teams and missiologists of Converge IM, they will develop the overall training processes for Converge IM workers. The goal is that by 2026 all 20 Converge IM initiatives will be fully staffed with global workers (approximately 400).
Ann has enjoyed being married to Kevin since 1981. Kevin serves as the Director of the U.S. Engagement Team for Converge IM. They are members of Bethany Community Church, in Laurel, Maryland, the church they planted in 1986. Together, they have two wonderful adult daughters, Bryden and Kelsey, who are serving God in global ministries based in the U.S. Your partnership with Ann, through prayer and financial support, will help bring the good news of Jesus to the approximately 2 billion people remaining in the world today who have never had the opportunity to hear of Jesus.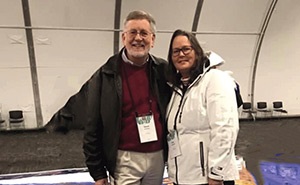 United States //
Kevin and Ann McGhee asking God to create a gospel movement among every least-reached people group in our generation.
Personal ministry funds
Donate to a missionary to help provide specific tools and equipment needed to advance local ministry.
Live out your faith today. Help take the gospel to the ends of the earth.