When Conviction and Culture Collide, Ministry in the Post-Christian Era
Jim Capaldo
Regional President
---
Kansas City presents a true cultural phenomenon. It is where the Eastern Woodlands end and the Great Plains begin. It is at the climatic cross-section where blizzards thin and ice storms thicken. It is where the Northern flare of Dakota chislic and Nebraska beef gets immersed in the Southern baptismal of barbeque sauce. It is an ethnic cross-roads where African American, Latino, and Anglo families industriously converge with 98 represented Native American Tribes and newcomers from scores of foreign nations. It is where rural meets urban, and it is where thousands of cultural tribes become Chiefs and blue-collar workers become Royals. From the north, south, east, and west, Kansas City is a collision of cultures. In the heart of downtown KC is one of our younger sister churches, The Fount, a fitting name for a church located in an urban fountain flowing with the wonders of God's creative genius.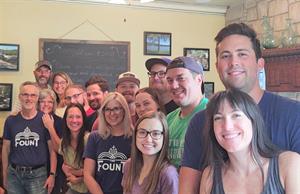 I was recently blessed to facilitate a strategic ministry planning process for a core team of leaders from The Fount, whose founding and lead pastor is Jim Hays. What an honor it was to work with this team, gain perspective on the church's health, and identify its core issues. What a joy it was to learn of their hopes and desires for the future of their local church. It was satisfying for everyone to identify clear and gospel-centered vision, strategies, and initiatives that light a clear pathway forward.

Due to her downtown Kanas City location, The Fount has had to navigate very intense tensions regarding COVID masking, vaccines, as well as other racial, political, and social tensions facing our nation. This small but steadily growing flock has painfully lost attendees and members over these tensions. One of the clarifying observations from their retreat that stuck out to me was the statement that "Our Biblical and social convictions don't match those of our downtown KC host community." This statement was perhaps the most concise and overt testimony of a church's Post-Christian challenge that I have heard from a Converge Heartland church. The term "Post-Christian" reflects our current era in which the widely embraced Judeo-Christian ethics of yesteryear are no longer being debated but instead are being replaced by secular virtues. This is occurring through our society's various institutions, including multitudes of households, liberal churches, private businesses, and governmental entities. Perhaps more than any church in our district, The Fount is a church existing in a Post-Christian context that is, at best, passive-aggressive toward the gospel, and at worst, hostile to the good news of salvation through Jesus Christ alone.

And yet we have hope! In The Fount's conviction-clashing observation lies the reality of our Post-Christian culture. In the Post-Christian reality lies our clear Great Commission call to missionary work both locally and globally. In our Great Commission call is the heartbeat of the cross-cultural cross-work of Christ. In the cross-cultural cross-work of Christ is the power of God for not only our salvation but also for countless others who have not yet believed. And it is here, in the power of the cross-work of Jesus Christ, that we must ever stand!
---