Key Takeaways from the Bethlehem Conference for Pastors
Steve Krier
Director of Church Planting
---
On January 30th, church leaders gathered in St. Paul, MN, for the 34th annual Bethlehem Conference for Pastors. Bethlehem Baptist Church in Minneapolis is a part of Converge and hosts the three-day event.
Converge Heartland had a vendor booth this year to build connections and meet potential church planters. It was a busy but fruitful three days. I had the chance to share who we are and what we do with hundreds of church leaders . While driving home from the conference, I reflected on my time and have four takeaways:
Church Leaders need equipping for the challenges of ministry.
I had conversations with pastors about difficulties they face in their churches. These challenges ranged from minor bumps to potential church splits and dying congregations. They also feel pressures from culture to reject biblical truth to conform to the world. I am grateful Bethlehem hosts this conference to address such issues. Church leaders need equipping to apply the timeless Word of God in an ever-changing world.
Pastors need encouragement from other pastors.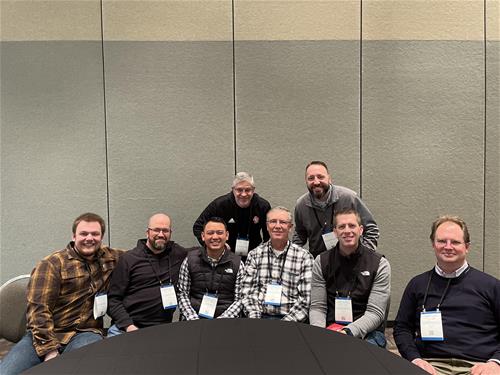 As a pastor, I treasure my connections and friendships with other pastors. At the conference, I saw faithful pastors sitting and praying with other pastors. I watched pastors and leaders share wisdom, spur each other on, and encourage one another. It was beautiful to watch. What joy to connect with other Heartland pastors who attended the conference. We were able to share meals and talk late into the night. It was good for my soul. Pastor, do you have others who can encourage you? Are you a part of a LEAD Team? If not, will you contact the Heartland offices to help find the LEAD Team in your area?
The quality of aspiring pastors is growing!
Many young men stopped by the booth to learn more about planting in the Heartland (and to get some sweet free stuff!). What struck me about these men was their love for the Word and God's people. Some of them are currently in residencies or serving as associate pastors. Four men showed considerable interest in exploring church planting. Others looked into pastoral residency with Converge Heartland!
More quality resources are available than at any other time in history.
Not only was the conference top-notch, but so were the other vendors! From church management software to leader development to youth ministry to mental health, the number of quality resources continues to grow. Many of the resources are available online and are more affordable than ever. At Converge Heartland, we have many resources for pastors, church leaders, and churches. We desire to start and strengthen churches together. If you are stuck in life or ministry, we would be happy to help you get where you need to be.
Pastors, leaders, and churches, I hope you grow in Christ-likeness. I hope you are using God's resources to advance His Kingdom. I hope you will make discipleship a priority. I hope you will contact Converge Heartland if you are ever in need. We would love to help!
---