Overcoming Evil with Good: A Report from the Ukrainian Front
Jim Capaldo
Regional President
---

"You simply do what can be done; you put your house and final will in order to the best of your ability, and trust God for the next step."
With intermittent air-raid sirens in the background, this was my response to a Ukrainian pastor who was privately expressing anxiety over being drafted, leaving his family, and getting sent to the war front. He simply asked me how I was able to take the "risk" of coming to visit him in rural Ukraine. I had no idea that God would use my words and presence to bring such comfort to this dear brother.
All the years of this Heartland District church to church partnership and all my years of Siberian missionary service had led to this special moment with one of God's choice and faithful Ukrainian ministers. We communed and prayed earnestly in Russian together, beyond 1 AM. His entire family of had piled into one small room to provide me with a small private guest room. They sacrificially gave me their best. We all slept on thin pads on the floor. I quietly wept and prayed for my Ukrainian brother, his family, and his people as I fell asleep.
From September 30 to August 10, 2022, I was blessed to take two trips into Ukraine. The shorter and first trip wentfrom Krakow, Poland to L'viv, Ukraine. This first trip, was a scheduled meeting between the leadership of the Ukrainian Baptist Union and our Converge delegation comprised of Bob Marsh (Converge Europe/Mediterranean Regional Leader), Mark Bjorlo (Converge North Central Regional President), Tania Martin (Converge IM Director of Mobilization and former missionary to Ukraine), and myself. The longer and second trip was launched out of Chisinau, Moldova, and connected with six of Converge Heartland's sister church and seminary partnerships throughout Ukraine's Odessa region. In this effort, I was exceptionally blessed to meet and work with some very high capacity Converge IM team members in Eastern Europe.
Key Learnings and Opportunities from Ukraine & Moldova
Though space does not suffice to share all the experiences and emotions, here are some key take-a-ways as we all consider our role in the Ukrainians' fellowship of suffering.
First, the Converge Ukraine Relief funds have been deeply appreciated and wisely stewarded towards short-term emergency support for pastoral families of the nearly 1,500 churches in the Ukrainian Baptist Union. They have also been used for rescue efforts and humanitarian needs in areas most affected by war.
Second, due to the exodus of qualifying Ukrainian pastors to western nations or of their being drafted to the eastern war front, the Ukrainian Baptist Union is experiencing a deficit of nearly 1,000 local church ministers.
Third, Moldova is a an exceptionally strategic nation for our Ukrainian partnerships. Having served many years in missions, I left Moldova in awe, especially after visiting with their local ministers and seeing their incredible response to the urgent needs of Ukrainians and Ukrainian churches. The capacity of our Converge IM team in Moldova is literally one of "mother-tounge" level effectiveness and unquestionably worthy of full-support. Moldova is our best launch pad for reaching into Ukraine, and her missionary zeal is vitally strategic for reaching into Central Asia and other former Soviet republics.
Fourth, the primary foci of the Ukrainian Baptist Union leadership are three-fold:
Continued humanitarian efforts in areas most affected by war, especially in ways that help prepare people for the oncoming winter.
The support of those remaining ministers who are faithfully leading Ukrainian churches.
The preparation of new ministers to lead Ukrainian churches.
Because humanitarian effort is a sustained need in which we have already been engaged, I will not further address this. However, the following two urgent needs warrant further explanation.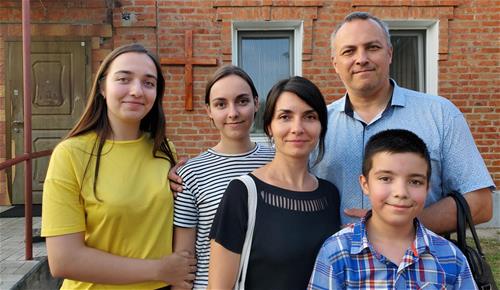 Support Ukrainian Ministry Families
Imagine your church, like Ukrainian churches, were to suddenly and simultaneously experience a major turnover of membership coupled with inflation and 70% to 80% unemployment. What would that do to your church budget? How would that affect your pastoral families and church families? How would that affect your district or denominational budget? Every Ukrainian pastor I spoke with acknowledged that they simply cannot discuss monetary offerings knowing that everyone is merely surviving. Just the same, they continue to sacrificially give out of their need.
Across Ukraine, pastoral families are silently suffering. As I spoke with Odessa Theological Seminary leaders and Ukrainian Baptist Union Regional Presidents, I have learned that several hundred Ukrainian pastors are struggling to survive. Over the past months, denominational leaders have offered $300 as one month's emergency support to pastoral families in need. At this time, I am working with Ukrainian ministry leaders to form a specific and vetted list of pastoral families in need of monthly support. They admit that their funds for such assistance are depleted. They further acknowledge that this will be a need for at least two to three years. According to Converge DNA, we strengthen churches. If we want to strengthen a Ukrainian church, let's commit to strengthening a Ukrainian pastoral family. How might you and/or your church carve out $300 for the monthly support of a Ukrainian pastoral family as a budgetary commitment? Though $300 per pastoral family is our aim, any amount towards this will sincerely help! What's the most you and your church can do?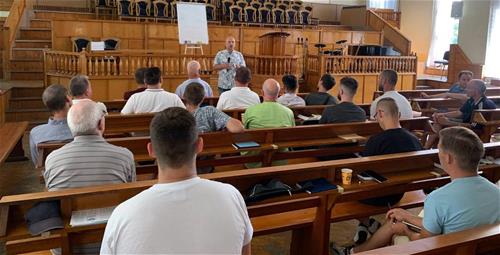 Support the Training of Ukrainian Ministers
Ukrainian men over the age of 60, and younger men with three or more dependents, a medical excuse or a special needs dependent are allowed to leave the country. Though some have remained, this means is that most of Ukraine's theologically educated young ministers have left and that many who carry the ministerial wisdom of years have also left. Besides this, many of the traditional training institutions have been utterly displaced and or dissolved. Some seminary libraries, such as the ones in Donetsk and Kherson, have been destroyed and/or burned by occupying Russian soldiers.
Pastoral training models in Ukraine are being forced to simplify from on-site Seminary residency to short module courses and regional training cohorts in local churches. Teachers and Professors must simplify their materials and methods from a formal theological mindset to training faithful grass-roots deacons who are coming into war-time pastoral leadership largely from skilled labor professions such as carpentry, farming, plumbing, welding, and auto repair. No one has the resources to travel far but within regional districts and strong resourcing churches is where this type of spiritual guerrilla warfare is and will be taking place. A one-weekend and local-church based training session for 20 to 30 ministers costs $1,500 and includes materials, meals, lodging, and travel assistance. How might you or your church underwrite this type of church strengthening and church starting project?
Though we will continue to address urgent humanitarian needs as they arise and are overseen by Ukrainian churches, going forward, we aim to further focus resources towards the matters emphasized by Ukrainian ministry leaders. Namely, we will help sustain and prepare Ukrainian ministers and ministry families.
Let's do what can be done; let's put our houses, churches, and districts in prioritized financial order to the best of our ability. And together with our fellow Ukrainian congregations, let us trust God for the next steps!
Let us overcome evil with good.
Jim Capaldo
Regional President
Converge Heartland
Please contact Jim Capaldo at Converge Heartland to discuss a Ukrainian Pastor/Church partnership.
Donate to Converge Heartland's Ukraine Relief Fund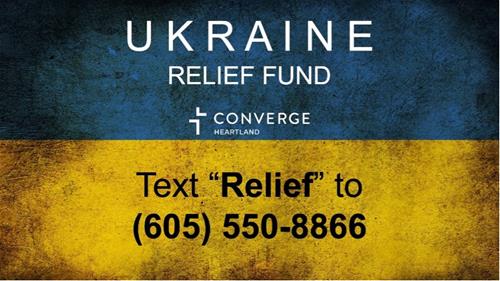 ---