From the Heart of a Church Planter
Cody Weckerly
Pastor, Harvest Plains Church
Church planting & multiplication
---
Four years ago, I did one of the most challenging things I have ever done in my adult life. I planted a church in rural North Dakota. Before planting, I visited with as many seasoned church planters as possible, listening to their stories and gleaning from their wisdom, hoping it would spare me unforeseen headaches and heartaches. Looking back, I am thankful for those conversations. At the same time, however, I am also more convinced that the best ministry advice comes from Jesus as he gave instructions to the disciples when he sent them out to minister among "the lost sheep of the house of Israel." (Matthew 10:7-14)
1) Preach the gospel
"And proclaim as you go, saying, 'The kingdom of heaven is at hand.'" (v. 7)
Nothing is more central to the mission of the church than preaching — but not just any kind of preaching — preaching that is bold and urgent. The meaning of "at hand" can be understood as "on the brink." It means to be so near to something that, at any moment, one might fall into it. "On the cusp," might be another translation, referring to a transition that could occur at any moment.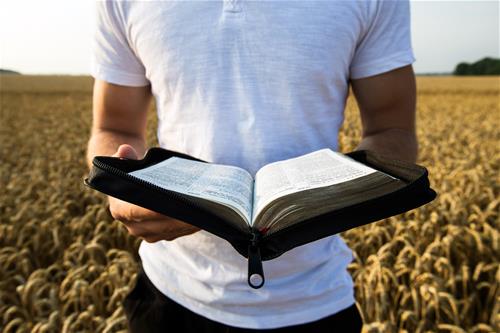 And this speaks to the transient nature of life. Think of it, friends. In the blink of an eye, everything could change. Either someone could die, or Jesus could return to establish his earthly Kingdom. And while this is good news for those who love Jesus, it is also sobering news for those who do not, since each day, they inch closer and closer towards God's everlasting judgment for sin.
Yet how can this fate be avoided? Paul is clear: through the preaching of the gospel. Hence, why Paul says, "How then will they call on him in whom they have not believed? And how are they to believe in him of whom they have never heard? And how are they to hear without someone preaching? (Romans 10:14–16)
Here is the key: God saves and sanctifies his people through preaching. When we preach, we do not discuss, dialogue, or debate. We announce! We announce the triumph of Jesus. We publish the news of what God has done through his Son!
2) Help the suffering
"Heal the sick, raise the dead, cleanse lepers, cast out demons" (v. 8).
I hope you stand amazed at how Jesus held two things in perfect tension - on one hand, he steadfastly preached the gospel; but on the other hand, he compassionately cared for those who suffered and did what he could to relieve their suffering.
I do not have all the gifts that Jesus uniquely gave his disciples. I also know that I must grow in following Jesus' command to preach faithfully and to help people as he did in their physical problems. Jesus helped the helpless, touched the untouchable, loved the unlovely, and served the most desperate.
3) Serve for Free
"You received without paying; give without pay." (v. 8)
I wish I did not need to say this, but I do - ministry is not a business. MInistry is a mission, a calling, and a stewardship. As such, consider how it works. You have been called to make disciples. This maintains a simple pattern. You received something from someone else, now it's your responsibility to pass that on to someone else. But since everything you have has come from the Lord (though also through other people), you are to labor for the Lord, without any expectation of personal profit.
Now, Jesus did not tell his disciples they were to refuse any and all compensation. After all, he says, "The laborer deserves his wages." Therefore, it was right for them to be supported by their work, just as it is right for those who labor in preaching and teaching today, but it is never to be demanded. If it is, beware, because no person motivated by greed is fit for ministry. If you need more wisdom on this, read the apostle Paul who spoke regularly about fleeing the love of money, being content with what one has, and even boasted about preaching the gospel free of charge (1 Tim 6:9-10; 2 These 3:8; 1 Cor. 9:18; 2 Cor. 11:7).
4) Trust God's provision (vv. 9-10)
"Acquire no gold or silver or copper for your belts, no bag for your journey, or two tunics or sandals or a staff, for the laborer deserves his food." (vv. 9-10)
So interestingly, in this situation, Jesus tells the disciples not to pack a bag, stuff their pockets with cash, or even plan on a change of clothes. Later, however, when the disciples go to the Gentiles, this will change, and then he will tell them to take certain supplies. Why?
Clearly, there is a change in ministry seasons. When ministering among the Jews, things are quite peaceful initially, but eventually, opposition will intensify. Therefore, God is getting them ready for it. But notice how he does it? Does he throw them into the deep end of the pool right away? No, he uses their first missionary experience to build up their confidence that, no matter the trial, God will be able to take care of their needs.
I'm guessing you can identify a similar pattern in your own life. Perhaps you have had moments when you thought, "Lord, don't ever let me face (insert fear)," because you don't think you could handle it. But then God allows you to experience something that builds your trust in his power and sufficiency. That seems to be what's going on here. And honestly, such moments are critical in ministry. You will rarely feel that you ever have everything you need. Regularly, we feel weak, inept, overwhelmed, poorly funded, under-manned, and the like. Perhaps you are! But let me remind you of something else, God has given you everything you need to perfectly glorify His name.
5) Enter Open Doors
"And whatever town or village you enter, find out who is worthy in it and stay there until you depart. As you enter the house, greet it. And if the house is worthy, let your peace come upon it, but if it is not worthy, let your peace return to you. And if anyone will not receive you or listen to your words, shake off the dust from your feet when you leave that house or town." (vv 11-14)
Truth be told, I sometimes become nervous when people talk about open and closed doors. Part of that is probably because I have met a few people who use these metaphors to escape studying their Bibles and making difficult choices, or who are looking for an excuse (a closed door) to give up on something in which they probably should persevere. In any case, there is something to be said about walking through open doors and trusting in God's purposes when a door closes. The disciples learned this principle quickly. In fact, in their situation (and I imagine this is true in most of our own contexts), a spiritual door was nearly identical to a literal door. If someone opened their home, it also meant there was an open heart, and a base for ministry operation within a community would quickly become established,
So, are you meeting people who want to hear the truth? Awesome! Invest in them. Disciple them. Point them to Jesus. Are you encountering hard hearts? Don't be discouraged. It just means God is re-directing you somewhere else. In the meantime, what is your responsibility? Proclaim the good news of Jesus Christ!
---
Cody Weckerly, Pastor, Harvest Plains Church
Originally from Hurdsfield, North Dakota, Pastor Cody ministered in many areas before following God's call to plant a church in Casselton, ND with his wife Christia and their 5 adventurous children.
Additional articles by Cody Weckerly