Church Planter Spotlight: Chase Hill
Steve Krier
Director of Church Planting
Church & pastoral health

//

Church planting & multiplication
---
This month's church planter spotlight is on Chase Hill of Gospel Life Church in Wichita, Kansas. Gospel Life is our newest plant in the Heartland, and I was excited to sit down with Chase to hear his story. Chase's story is one of being called, needing to wait on the LORD, and adjust their plans as God was leading them.
Learning to Trust as He Adjusts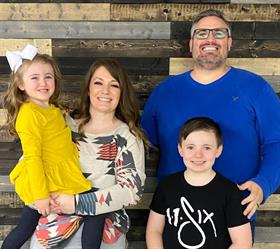 Chase grew up going to church and watched extended family members pastor churches. In his childhood, his family moved to the St. Louis area, where he came to Christ. After high school, Chase decided to go on a two-month mission trip to serve a church plant in the Philippines. It was there that Chase would feel called to the ministry and what he thought would be lifelong service as a missionary.
Chase would return from the Philippines eager to serve the Lord. He enrolled in Bible college and trained for ministry and missionary work.
After college Chase and his wife, Rachel, would move to Ohio for a two-year missionary internship in a local church. The intent was to be able to grow in ministry skills and be able to raise financial support as Chase was confident they would head overseas. However, after just one year, it was clear to Chase and Rachel they were not to be missionaries. Chase and his family would move to Kansas to serve as a youth pastor over the next few years.
I Never Said "No" to Church Planting
During Chase's time as a youth pastor, he felt a growing desire for church planting. Chase's desire to see lost people come to Jesus was a driving factor in selecting a location to plant a church. Research showed that the most under-churched state in the U.S. was Rhode Island, so Hill's planned to move to Rhode Island. However, things did not turn out as planned despite their best efforts, and God shut the door to move East.
It was a difficult time for Chase. They stayed in Kansas, and Chase became a Hospice Chaplain for the next two years. It was during this time that God spoke to Chase, "I never said, 'no' to church planting." The Lord had renewed Chase's calling, and he would pursue church planting again.
In the process, Chase connected to Converge through various relationships and was excited to get involved since he had heard Jim Capaldo was our District Executive Minister. Chase said, "I heard him speak at a chapel when I was in college, and Jim was a missionary to Siberia. I never forgot the talk he gave!"
Chase would become a part of Converge and go to Church Planter Assessment, where he received the confirmation and support he needed to move forward.
During this whole process, Chase was living in Kansas and had grown to love it. When it came time to decide where to plant, Chase knew it was Wichita. "Wichita is a big city, but in decline spiritually. It was more urban than I expected, but I knew these are my people."
A Labor of Love, Trust, and Perseverance
The Hills moved in 2018 to plant Gospel Life Church. Chase said, "Our church's name is our vision, and we want people to live a Gospel Life. We don't just live for Sunday; we want to live for Monday as well." They started to make plans to launch, complete with a timeline. "We made plans, but whatever." He would say jokingly.
There have been many ups and downs. They would start by meeting in a school in 2019 and learning how to make connections in the community. They tried to buy a building, but that fell through. They had plans to launch in 2020. The launch team had a dinner meeting on March 15th, 2020, and the next day everything closed in the city because of the COVID-19 pandemic. Without access to the school, what were they to do?
Again, they would readjust and see what the Lord had planned. They went online, gave away $3000 to people in the community who had needs, and started meeting people as they were serving the community.
God would then open the door for them to lease a space in the Delano district of Wichita. It is a community of around 85,000 people. Delano had been experiencing "church flight" since the early 2000s when churches moved out of the area. It also has the highest truancy rate in all of Wichita. Chase would say, "God planted us here!"
Despite many setbacks, Gospel Life would launch on January 31st, 2021, in the middle of a global pandemic. Despite this reality, new people came, and since launch, four new families have connected!
Prayers for Gospel Life
Please pray for Gospel Life Church. The building they are leasing has some improvements that need repairs to meet the city code. The repairs are a challenge, but they are hopeful. On the positive side, Gospel Life is having their first baptism service in a few weeks, and they look to launch a second Gospel Community (small group) in May.
We are so excited to see a Gospel-centered church bringing life change to the Heartland community of Wichita, KS.
---