Church raises up leaders to bless others
Mike Carr
Communications Director Converge Heartland
---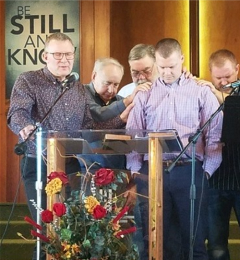 As an abundance of people and financial resources continued to increase at Overland Hills Baptist Church, Pastor Jonathan Vinter and the elders wrestled with the wise stewardship of these blessings.

As they looked at where to focus this new growth they prayed over and discussed helping Center Baptist in the heart of Omaha which was without a pastor. And yet there was a desire to also pour into their surrounding community of Papillion, NE - a southern suburb of Omaha - by increasing the size of their facilities.

The question on Pastor Vinter's heart remained "Which do we choose or was God calling us to do both?"

Around the same time a key Overland Hills volunteer, Davy Lee, began to emerge as a potential spiritual leader to help in either or both of these future ventures. He served faithfully in multiple roles as a lay leader and in part time positions at Overland Hills for the previous 8 years.

Lee was not a stranger to leadership as he was working as a naval officer at nearby U.S. Strategic Command at Offutt Airbase. Lee grew up in the church as a pastor's kid, excelled in the U.S. junior tennis circuit, and secured an appointment to the U.S. Naval Academy at Annapolis where he lettered in tennis all four years. Alongside Lee's passion for tennis was his passion for studying and teaching God's Word.

I remember during one deployment on a submarine I was chosen to lead the crew spiritually as an unofficial chaplain. Since I was studying Galatians, I led a bible study from some of what I was learning with some of the men. To my surprise one of the men became a Christian and it further fueled my desire to teach the Word to others."

"After arriving in Omaha, my goals were to plug into a local church and start learning and helping in ministry wherever I could while finishing out my commitment to the Navy. Overland Hills was the first church my wife and I visited and we decided to make it our church home," shared Lee. As they settled into their new home, Lee was also able to complete his Master of Divinity degree through Southwestern Seminary and even begin a PhD through Midwestern Seminary.

Lee was unsure of what his future might look like after his commitment to the Navy and finishing his seminary studies. He thought the next step might be something in the Naval Chaplaincy.

Unbeknownst to Lee, the Lord had a different plan. Slowly and intentionally as Lee faithfully obeyed his Lord - God was shaping Lee's character and preparing him to lead a flock of his own.

Pastor Vinter said, "As I watched Davy, I observed fairly early on in our friendship and serving together that he could be a senior pastor. One scenario that came to my mind as I was thinking about Overland Hills' future, I wondered if it included something with Center Church."

Over the next few years Pastor Vinter, along with the elders at both churches talked about and explored future possibilities. One of the possibilities that stuck was for Center Baptist to be able to benefit from the strong teaching team at Overland Hills to fill the pulpit duties once per month starting in March 2019. For those on the teaching team, they were blessed by being able to minister alongside seasoned deacons committed to gospel centered teaching in central Omaha.
Along with the decision to partner with Center Baptist, Pastor Vinter and the elders also made the decision to expand their physical presence in Papillion, NE so they could further their work as a gospel centered church.
"It was a time that was challenging with elder meetings and wrestling with the future. We all seemed to be in agreement of doing both, expanding the facilities and also partnering with Center Baptist. The matter of the timing of when to implement these decisions was point of tension. In the end we did both about the same time," recalled Pastor Vinter.

As fruit continued to be bore through this partnership, Overland Hills took a bigger step in Dec 2019 and voted to send Davy Lee to pastor at Center Baptist. Center Baptist installed Pastor Lee as their pastor January 5, 2020. Along with Pastor Lee, Overland Hills sent 3 other families. This included Chris Atkins, who has become the worship leader and is growing in pastoral ministry at Center Baptist.
The Lord continues to bless both churches as they continue to navigate the challenges of COVID and as they are building gospel centered communities in different parts of Omaha.
---
Mike Carr, Communications Director Converge Heartland
Lives in Sioux Falls, SD and attends Central Church. Missionary for 31 years.
Additional articles by Mike Carr