Story
Our road to being called to church planting started in August of 2020. I had been serving in pastoral ministry for 25 years, and I had been experiencing an increasing urgency and desire to share the Gospel and move toward a new missional work in ministry. As we sought God's direction, a good friend asked a very simple question: "Have you ever thought about church planting?" The basic answer was 'no', but the question took us on an exciting journey of concerted prayer and assessment for several months, during which God brought clarity and confirmation that we were indeed being called to plant a church. The "where will we plant?" question became an extension of more than a decade of prayer by pastors in Northwest Wisconsin praying for a planter in St Croix Falls. I was actually one of those pastors, and it comes as both a surprise and blessing that Jayne and I have now become the answer to those very prayers.
Our purpose and passion is to reach people in St. Croix Falls who are confused, stuck, and unable to move beyond their current circumstance but who desire to make a difference. We know they cannot do that without the hope we have in Christ. So we are committed to helping them and walking with them to find and follow Jesus. Through this new church plant, we envision a community of believers who are passionate in their relationship with Jesus, purposeful in multiplying disciples and churches, and producing fruitful and fulfilled followers of Christ living according to God's design for their lives.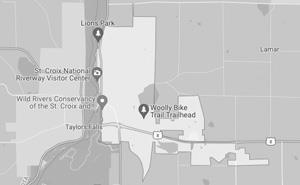 St. Croix Falls, WI //
Map of St. Croix Falls, WI and Surrounding Area
Live out your faith today. Help take the gospel to the ends of the earth.