Story
What began as a seven-week summer short-term experience in Japan in 1991, has become 25 years of teaching eighth-grade international students at Christian Academy in Japan (CAJ). My main responsibility is to teach Bible 8, English 8 and social studies 8. I also guide students in service projects, both at school and within the community. However, teenagers are often filled with uncertainty and questions, especially spiritual questions. Interwoven with teaching are daily opportunities/privileges to encourage my students to become Christians and to disciple those who are. My greatest joy has been to see at least one student become a Christian each year! Also, I have opportunities to share with former students who come back to see me, whether they're in high school or alumni. Quite often, they explain difficulties they're experiencing, hoping for advice. I also hear of how the Lord is using many alumni in other parts of Japan and around the world. In addition to teaching, I am involved in a local Japanese church. I have been mentoring young women who are new Christians, assisting in the English translation of the church website and helping the welcome team on Sunday mornings. Each Sunday, the Lord shows me someone who needs encouragement or prayer. Though my ministry at the church is not consistent, I enjoy being flexible to help where I can. I am excited to see how the Lord will continue to use me here in Japan!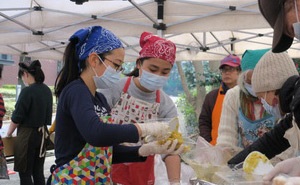 Tokyo, Japan //
Our greatest privilege is joining Jesus in what he is building: his church. When we reach across the street and around the world with the gospel—locally and globally—we impact lives for eternity.
Personal ministry funds
Donate to a missionary to help provide specific tools and equipment needed to advance local ministry.
Live out your faith today. Help take the gospel to the ends of the earth.