Story
Whether networking and training Arabs in the Arabian Gulf area, mobilizing the Arab church for evangelism in the Middle East, or equipping church leaders in the United States to reach Arabs here, Ashraf and Nivin are advancing the gospel among unreached Arab people groups from the Middle East. Being from the Middle East, Ashraf and Nivin are at home with the Arab language and culture. They have ministered in the Middle East for more than 30 years, 12 of those years with Campus Crusade in Egypt. Ashraf holds an M.A. degree and has taught Islamic studies at a Christian college in Missouri.
Ashraf and Nivin's ministry focus is evangelism and discipleship among unreached Arab people groups in the 10/40 Window as well as in the United States. They accomplish this through four strategies:
Sharing Christ one-on-one and visiting Arab worship centers.
Assisting the church in the Middle East through training in evangelism and discipleship strategies, so they can reach their Arab neighbors.
Training Christian Middle Eastern immigrants across Europe, the Middle East and the United States, so they can share Christ more effectively with other immigrants who are part of the Diaspora.
Assisting American churches in understanding the Arab religion and developing an effective outreach strategy to evangelize and disciple Arab immigrants in the United States. Contact Ashraf and Nivin to schedule free training for effective evangelism and discipleship among Arab peoples.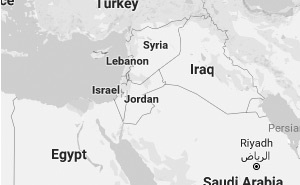 U.S. Ministries & Middle East //
Most of the biblical events happened in this area. Let us join God's work in God's area in God's time.
Personal ministry funds
Donate to a missionary to help provide specific tools and equipment needed to advance local ministry.
Live out your faith today. Help take the gospel to the ends of the earth.