Microchurch network bringing gospel to religion-leery city
Ben Greene
Pastor & writer
Church planting & multiplication
---
Men and women are calm, eyes closed as they lay face-up on Reiki tables all over Boston. But, below the surface, they are physically hurting, emotionally pained or psychologically struggling.
Looking for relief and support, they go to one of at least a dozen Reiki clinics in the city. There, practitioners trained in the Japanese healing technique touch clients' shoulders. Other times, the hands of a Reiki healer slowly pass through the air above a sick person's body. There is energy in living beings, they believe, which can help the mind and body to heal.
North of the Charles River, many Bostonians with different needs seek life resources at the Massachusetts Institute of Technology. "Mind and Hand," the motto of the 150-year-old university, inspires practical, academic knowledge.
Like many colleges, experts lecture on current topics or troubles. Additionally, there are various groups and events from all spiritual or religious commitments, including a 'secular weekly hangout' for non-theists or nontheism-curious. Nontheism is a range of both nonreligious and religious attitudes characterized by the absence of a belief in God or any gods.
"Boston's just bought into a different gospel," said Josh Wilson. "It's a striving city. They're trying to be enlightened, they're trying to do good. We have more nonprofits per capita than almost anywhere in the country."
Where is the faith in Boston's gospel leading people?
MIT's website says the school was founded to accelerate America's industrial revolution. Today, though, the school's staff and students work "for the betterment of humankind."
However, the sincere, strenuous effort to transform a wrecked world or heal one's body and mind simultaneously challenges the betterment of Boston's people.
"They're also moving so fast that they're tired and things aren't working internally," Wilson said. "There's no joy. There's an anger at the injustice in the world that often turns to bitterness. People are aching for community, for beauty, for goodness."
That's why Josh and Aly Wilson welcome their neighbors to The Table. The movement of weekly microchurches started in Dorchester, a Boston neighborhood known for diversity.
"We want to be people who lead with hospitality and love and invite people into an experience of the transforming love of Jesus," he said.
Related: New Colorado church reaches beyond the walls
About 30 people call one of The Table's microchurches home. On two Sundays each month, the microchurches come together in one location for connection, worship, formation and celebration at Hub Gatherings. The experiential time together includes worship, prayer, teaching and storytelling. They continue to move forward together despite sound and technology needs, for which they are currently raising money to address. (You can help by giving on The Table's website.)
In the new year, The Table plans to start a couple more microchurches. The Converge church planters won't be surprised if God uses the non-traditional form of mission and community throughout the city of 700,000.
"We're rooted in Dorchester," Josh Wilson said. "But I think what God's doing will end up growing beyond that."
What is the spiritual landscape of Boston?
In Boston, the Wilsons have encountered people with two general orientations to Christ's church. Some people are spiritually open and would attend a worship service if invited.
However, most people in Boston aren't looking for a church. Yet Josh Wilson said most of the city's churches shape their activities to reach those people.
Related: Creating a culture of evangelism
This second group is more interested in brunch with their friends, Red Sox and Patriots games or going to one of the city's beaches. At a heart level, many Bostonians are understandably skeptical after past scandals involving religious leaders. Further, churches have hurt or rejected the city's people in other ways.
"Wounds of Christendom gone wrong are still fresh," he said.
Therefore, connecting people who aren't Christ-curious means the Wilsons are offering a different path into ancient grace.
"If we're going to reach people with the good news and encounter people with Jesus, we've got to do that outside of a Sunday morning church," he said. "You need some new wineskins, some new church structures and a deeply formed discipleship where they can share good news based on the spaces they're in."
The church was years in the making
Aly Wilson is The Table's pastor of spiritual formation. While her husband, Josh, is the lead planter, expressing a more apostolic identity, Aly works as a spiritual director with additional training in soul care. She hopes to help neighbors direct their anger and their ache into becoming more like Jesus.
"I know from personal experience how easy it is to know a lot of things about God without ever experiencing the goodness and love of God for yourself," she said. "I want to help people experience God in ways they haven't before. When we learn to live in connection with the love of God, we ourselves are transformed and can be a true gift to the world."
Related: Who do you love? Making sure your people fall more in love with Jesus than your church (Unfiltered podcast episode)
Josh Wilson grew up in a mobile home in rural Ohio surrounded by three different cornfields. At eight years old, God summoned the boy into ministry. Two days later, God did the same with Wilson's parents.
They went to Moscow, Russia two years later to plant a church. Josh stayed in Moscow until he was 19, seeing how ministry succeeds and fails in a post-Christian context.
During those years, he saw two key threads for the mission of The Table ― gospel outreach and becoming like Jesus ― gain value and clarity.
Why are microchurches possible, even valuable, in Boston?
Caleb Mooney-McCoy leads a microchurch within The Table's community and may lead another. The Boston native has long valued churches focused on disciples in relationship, not programs.
He said that a key for New England churches, new or established, is decentralizing community and discipleship.
Mooney-McCoy said microchurches don't just mimic businesses like DoorDash, Uber and Airbnb. These companies shifted traditional commerce out of institutions or buildings into private homes or cars.
Instead, churches need to engage the decreasing trust many New Englanders have in the institutional church. He sees the decentralization of mission community and discipleship as a needed paradigm shift for churches.
"If you want to be out there loving people, displaying and proclaiming Jesus, you have to decentralize," he said.
Related: Church plant growing spiritual fruit in a food desert
The Table serves Christ-followers so they live and love like Jesus without depending on a church building or Sunday service. Of course, such a transformed life begins with helping them encounter Jesus through the gospel. But the church also wants people to embody Christ "so their actions and affections look like Jesus," Josh Wilson said.
That's why spiritual practices around gratitude, for example, teach disciples to be oriented to obedience as the fruit of being with Jesus.
The design of microchurches allows Christians in Boston to be intimate with Christ and connect with neighbors. Disciples at The Table learn to live their calling in their community where their gifts engage community needs.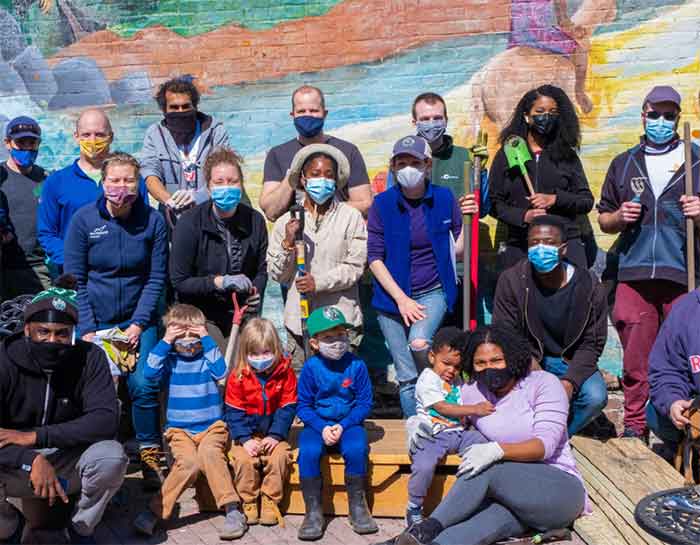 For example, one of the microchurches includes people who are passionate about housing justice. The Table is even helping with a fundraiser in December to help people of color to buy homes.
"Those [events] become the building blocks of relationships," Josh Wilson said. "People from there can be invited into discovery Bible study or microchurch."
Many people who attend events like these at The Table are not Christians, yet they're interacting with Christians around areas of shared concern.
"We're trying to create microchurches for people trying to do good in the world but who need a spiritual community so they can do this from a place of love," Josh Wilson explained.
Being a racial minority changes how Wilson starts a church
Wilson, who is white, started a challenging journey of learning to love while in seminary at Trinity Evangelical Divinity School near Chicago. Trayvon Martin, an African American 17-year-old, was killed in Sanford, Florida, during Wilson's education.
As people started having strong reactions to the fatal shooting, Wilson realized he didn't understand the responses. So, he started learning and asking people of color questions to gain a better understanding.
Over time, the answers shifted his ministry future from "planting a white hipster church" in the city. Instead, he wanted to be "part of the healing of some of these things in this country."
Related: Can we talk? A call for courageous conversations in a time of cultural conflict.
Since seminary, he has learned through the Christian Community Development Association, Epiphany Fellowship (a multicultural church in Philadelphia) and the multi-ethnic Heart Change Fellowship in Boston.
All those places helped him answer a fundamental question: "What does it mean to live like Jesus, to love others well and to live in community across these differences in culture?"
The grace he received from his childhood church experience, and tried to offer Muscovites in Russia, is still in his heart. But the gospel faces a challenge in Boston somewhat similar to Josh Wilson's ministry in Russia.
"I cannot create a church experience that will work for all the different segments of our community," he said. "For us, it's not just about a model, it's about the ways in which everyday Christians are coming alive in their intimacy with Jesus and in their missional posture."
Have some grapes, here's a tomato; come to the fish fry
The Wilsons relish an "incredible" food scene with dishes from Cape Verde, Ethiopia, Vietnam, and soul food cooks in their neighborhood. In addition, there's great art, excellent coffee and beautiful art around the walkable community.
Best of all, Josh Wilson says, are the people. Seeing friends and neighbors is woven into the walks around Dorchester. One neighbor gives him grapes from the front lawn of one house. Another gives tomatoes from their garden. A few nights later, there's a fish fry on the front porch of a third.
"There's a community and richness and connectivity that looks like the kingdom," he said.
Related: New life stirring near Annapolis' waters
Two months ago, the Wilsons found a note on their door: their street was closing. The reason surprised them: there wasn't a problem with water mains or street cleaning.
Instead, the neighbors were celebrating Loko's life.
Loko, born Rafael Martinez, was homeless and called the Wilsons' street his home. Sometimes he was staggering and sometimes he was singing. At least once, he set off fireworks while the Wilsons' daughter, Ava, was trying to nap.
Even so, when the man died, love for him emerged from neighbors' hearts.
Neighbors like Tony, Junior and Tyrone, plus others who made Loko warm meals, didn't give up on Loko in his struggles. Now that the man had passed away, they were going to remember him with photos, candles and a party well into the night.
"He'd always been part of the neighborhood," Josh Wilson learned. "When this challenged and challenging homeless man died, the entire street shut down to mourn his passing and celebrate his life."
Microchurches can train Christians for living in the midst of such a diverse city that normally doesn't embrace the church.
Molly and Ian Warner are two Bostonians who've committed to The Table. They first met Aly and Josh Wilson when they became upstairs renters.
Over time, the Wilsons shared more about the network of microchurches they desired to create. As The Table became more active and organized, the Warners committed to a discipleship cohort.
"We joined that discipleship community out of a longing for becoming more deeply rooted as disciples," Molly Warner said. "We learned so much through that discipleship journey. It was transformational for our marriage and our family."
Related: Creating a healthy environment for discipleship (video)
Moreover, they're now learning how to extend the same transformation to others around Boston. Therefore, the Bostonians going to Reiki tables or MIT might find the grace of God coming to them through a neighbor or coworker.
"I'm a dietitian, not trained in the pastorate," she said. "Here I am being encouraged, valued and supported as someone who can do the work that God is calling them to do."
The Table is one of 312 churches Converge's 10 districts committed to plant before 2026. Read more inspiring church planting stories and learn more about the goal to plant 312 churches in five years.
---
Ben Greene, Pastor & writer
Ben Greene is a freelance writer and pastor currently living in Massachusetts. Along with his ministry experience, he has served as a full-time writer for the Associated Press and in the newspaper industry.
Additional articles by Ben Greene