House party turns into disciple-making moment for Deaf people
Ben Greene
Pastor & writer
---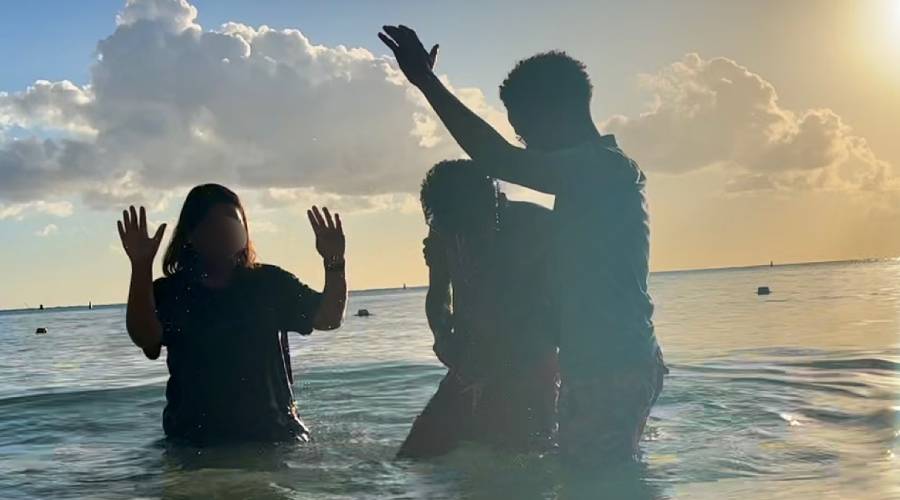 Dorrianne, a small business owner in Mauritius, leveraged her business to hire an individual who most companies would not due to the employee's physical disability.
Soon, Dorianne's experience and empathy stirred her to pray for those with physical limitations. In time, she began to focus on Deaf people and even started to learn Mauritian sign language. Eventually, she shared the gospel with a Deaf Mauritian man, Christopher, who trusted Christ.
He is most likely the first Deaf believer on the entire island. But his salvation was only the beginning.
The story of salvation leads to another new believer
Five members of the Converge's Deaf Catalyst Team traveled to Mauritius in July. They met Kenny Fong, Christopher and Dominique. Christopher came to a party at the home of Fong, a prolific disciple-maker from Mauritius.
Fong helped the Deaf Catalyst Team organize a party with many Deaf people. Christopher shared his story of choosing Christ as Lord with that group.
Yeshdev, sitting in the back of the room at Christopher's party, heard the new believer's experience. Then, he asked the group if he could share his life story.
Yeshdev was born into a Hindu family and learned Hindu traditions from childhood. His grandmother encountered Jesus and believed in him before she died. She told him that Jesus was better than her previous religion.
After she died, Yeshdev 's father and a sibling began to follow Jesus. Their decision and their new beliefs didn't make sense to Yeshdev.
But, he told the crowd at Kenny's house, Christopher's story helped him fully understand. So, he was ready to acknowledge Jesus as Lord, follow him and be baptized.
"'Now that I've seen Christopher share his story, I understand who Jesus is,'" Jonathan Walterhouse of the Deaf Catalyst Team recalled Yeshdev telling everyone at the party.
"I, too, want to follow Jesus," Yeshdev continued. "Can I please be baptized?"
The answer was absolutely, and Christopher baptized Yeshdev, even though Christopher was still new to the Christian faith.
There's no time to wait to get equipped for ministry
That baptism proves Christopher is already learning to be a disciple who makes disciples.
"This is a community where as far as we know, there are only two believers," Walterhouse said.
There are approximately 6000 to 12,000 Deaf on the island of 1.2 million people. So, seeing Deaf people trained and sent among this community is a significant priority within Converge's effort to start a gospel movement among the world's Deaf.
Globally, the Deaf are the least-reached of the least-reached. But Walterhouse said the catalyst team has a strategic approach that goes beyond compassion, such as having an interpreter during worship services.
The catalyst team now pursues disciple-making movement strategies that bring momentum and excitement by training believers to share the gospel, baptize people and teach them to obey all things.
Christopher and Yeshdev are now in a Discovery Bible Study that meets online with members of the Deaf Catalyst Team. They've had two sessions, and three seekers have joined Christopher and Yeshdev.
"They are very eager to learn," Walterhouse added.
That Discovery Bible Study group and the spiritual growth it offers mean more lives can be changed. Deaf disciples can learn to help others follow Jesus.
Christopher did precisely that at Kenny's house, and it changed Yeshdev 's life, even though Christopher had no training in telling his story or sharing the gospel. Building that foundation can do something that's yet to happen in Mauritius or anywhere else: start a gospel movement that can reach many of the 70 million Deaf people in the world.
"We've never even seen a gospel movement in any Deaf community that we've been able to discover," Walterhouse said.
Did you know 70,000 people die every day without a chance to hear a credible gospel presentation? Learn more about why Converge is asking God for a gospel movement among every least-reached people group — in our generation.
---
Ben Greene, Pastor & writer
Ben Greene is a freelance writer and pastor currently living in Massachusetts. Along with his ministry experience, he has served as a full-time writer for the Associated Press and in the newspaper industry.
Additional articles by Ben Greene