Heart for teaching leads to missions work in Africa
Ben Greene
Pastor & writer
---
Tim's neighbor looked over the router he'd just purchased and shouted across the street.
"Hey, Tim," the man called. "Can you come over and show me how to do this?"
Minutes later, Tim was working on the router table to demonstrate what to do. Tim, a Converge global worker in Senegal, knew how to use the precise wood-cutting tool. Best of all, he knew how to train someone else.
Later that same night, the man's wife said Tim was in his element as he explained how to use a router. Little did she know Tim taught a shop class to missionary kids at Dakar Academy in the West African nation.
"I love showing people how to do stuff," Tim said.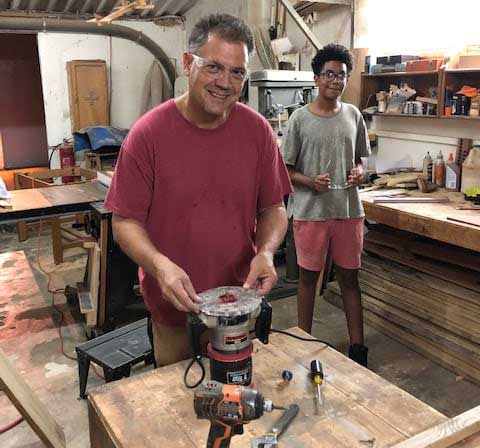 'What is Converge doing that we can be a part of?'
Both he and his wife, Mary Sue, are teachers at heart. They're currently preparing to return to the largely Muslim country of Senegal where they've served for 13 years. They'll again join Brad and Deb M, David and Laurie R and Bill and Kathy M, who collaborate in the Metro SenWest Initiative.
Related: Watch this video to grasp the Metro SenWest initiative
The couple plans to be back in Senegal by early 2023 so they can work at the Engage English Resource Center. They're shifting into the center near a university after 13 years in a variety of roles at Dakar Academy.
Doing what's needed to contribute to God's work is more aligned with their identity than staying in a particular role, their colleague Brad M noted.
"They have a lot to offer in a number of areas," he said. "They are trusting in God and allowing him to work in their lives and open new opportunities to serve in Senegal."
Related: Brad and Deb have also trusted God and embraced new opportunities in Senegal
At Engage, Tim and Mary Sue will work with people trying to learn English. Those Senegalese study the language to increase their educational and career options.
Mary Sue will work with university students for the first time in her ministry and may offer her accounting and office management skills as well.
"I call myself a hole filler," she said.
Tim sees himself similarly and recognizes how he contributed to Converge's mission in Senegal over the last 13 years. At Dakar Academy, he served as a principal twice, a curriculum coordinator, the shop teacher and a few other roles.
He has the same heart now as he and his wife embrace a new way to make disciples among the least-reached Senegalese.
"We're looking at the situation and saying we love the people we work with," Tim said. "We've invested time in learning culture and knowing people. So, then it just became a question: What is Converge doing that we can be a part of?"
Related: Converge's goal is gospel movements among the least-reached.
Go and make disciples — a new strategy for Senegal
Converge reorganized staff in the West African country in 2020 and 2021 so the team could focus on making disciples in the geographic triangle between Thies, Dakar and Mbour. The new strategy has the same goal: seeing many of the least-reached people of Senegal know Christ within one generation.
Related: Learn about Bill and Kathy M's ministry as they lead the Metro SenWest Initiative.
The Metro SenWest Initiative includes seven ministry projects with one goal: to make disciples who make disciples. That initiative trusts God to transform 5% of Senegal's urban triangle into disciples.
The three projects in Dakar are Dakar Academy, English teaching as outreach and assisting a small national Senegalese church in a Dakar suburb.
In Thies, where Brad and Deb live, there are four projects. Training others to make disciples is a priority, as is the second project utilizing radio programs and social media to share Christ.
Thirdly, Senegalese Christians can get vocational training to become teachers who then share the gospel while having employment. Lastly, a Senegalese man is a part-time chaplain who builds relationships and shares the gospel with patients.
Cultural conflict pushed Senegalese far from Christ
There are centuries-old challenges to making disciples in the mostly Muslim country. First, the people have been animists for centuries. Then, around the 10th century, Islam came through the Fulani people.
Next, the French colonized Senegal centuries later. After colonialism started, Catholicism and Islam coexisted in some parts of Senegal. Most Senegalese, as many as 95% today, are Muslims who embraced that faith in response to French actions.
Specifically, the French authorities created a power vacuum when they deposed indigenous kings. Islamic religious leaders then earned the people's respect because of their learning and wisdom. Slowly, five Islamic brotherhoods developed around these religious leaders.
All 30 tribes within Senegal mix some traditional African spiritual views into folk Islam or folk Catholicism. Some people use these spiritual practices if they want to curse someone, have a baby, or do well on an exam.
Convicted servants persevere toward a compelling priority
Global workers have invested 60 years of service among the Muslims of Senegal. There hasn't yet been a significant, self-sustaining movement of disciples. But Tim and Mary Sue press on because they value empowering others, staying flexible and being part of a team.
For example, Tim was a young teacher who pitched in at his church by volunteering in children's ministry in the late 1990s. That's when this teacher who saw his mission field as the public school system agreed to his pastor's invitation to try teaching adults.
The joy of instructing grown-ups got Tim thinking.
"I wonder how God could possibly continue to use me but in a more overtly Christian way," he thought at the time.
From there, he and Mary Sue didn't encounter burning bushes or a supernatural summons to global work. Instead, they reflected on past experiences, especially Tim's life as a child of missionaries in West Africa.
"I want to apply my expertise as an educator to supporting missions," he said. "There's really only one way to do that: We would have to be missionaries."
So, they went to Converge's assessment for prospective global workers. After that, they considered an academy in the Philippines, another in Cameroon and Dakar Academy in Senegal. They chose Dakar Academy and arrived in 2009, ready to accept any role to help fulfill the Great Commission.
Related: A short-term opportunity alongside global workers engages you in the Great Commission.
"Our efforts there meant that more mission families could come and serve in West Africa and Senegal because they have options for their kids to go to school," Tim said. "Without a good school like Dakar Academy, the truth is that mission families won't come to a part of the world that desperately needs more missionaries. That's what got us to Senegal and that's what's keeping us in Senegal."
Now, 13 years later, they have the same spirit and motivation in their opportunity for instructing Senegalese who want to learn English. These teachers-at-heart eagerly embrace the open door the Lord has made. They believe more people who've been pushed away in the past can draw near to God for an incredible, eternal future.
"It is a firm conviction of mine that the missions efforts of churches need to be focused on parts of the world where the gospel isn't known and isn't preached," he said. "Senegal definitely fits the bill."
Converge is asking God for a gospel movement among every least-reached people group – in our generation. Learn how we are playing a role in accomplishing the Great Commission and how you can be involved.
---
Ben Greene, Pastor & writer
Ben Greene is a freelance writer and pastor currently living in Massachusetts. Along with his ministry experience, he has served as a full-time writer for the Associated Press and in the newspaper industry.
Additional articles by Ben Greene