Converge pastor riding Harley to Hell's edge
Ben Greene
Pastor & writer
Discipleship & spiritual formation

//

Evangelism
---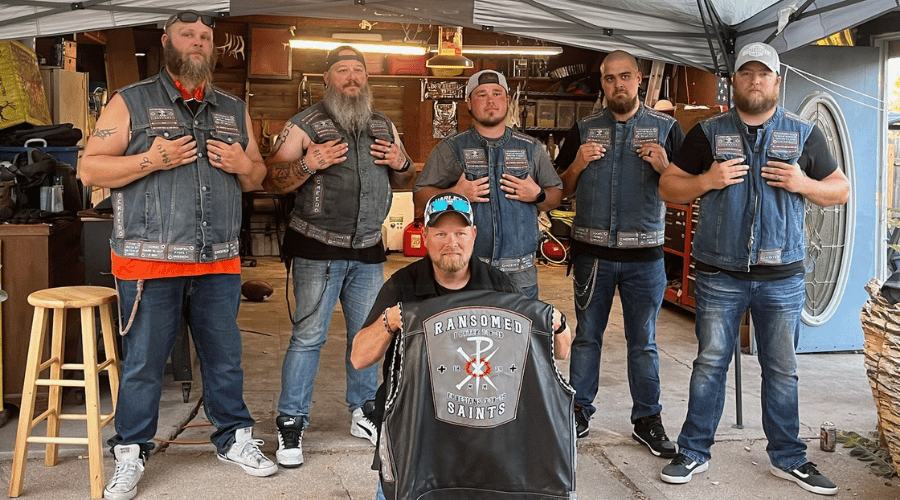 The mufflers on Joe Marino's motorcycle roar.
"You couldn't get louder exhaust on your bike," he said. "There's no guts in the exhaust; there's nothing in those mufflers."
At the other end of his 2006 Harley-Davidson Street Glide, a pair of 19-inch ape hangers steer a bike built for boldness.
"You look down, the pavement is going 90 miles an hour underneath your feet, two inches away," he said. "There is a sense that you face death in a different way every day where you get right with your maker."
This Nebraska native now rides as a ransomed saint. All Marino's missing, quite honestly, is more people in his crew who've reconciled with God.
"We're running a rescue mission within a yard of hell," the Ransomed Saints riding club president said.
Shattered — then saved — in the street
Marino nearly arrived in hell on a June day in 2000. He was a drug dealer, alcoholic and drug addict who'd separated from his wife and found a girlfriend.
That woman wanted to party, so Marino, already stoned on weed, started his 1986 Honda 750 custom chopper in Lincoln, Nebraska. Minutes later, he was stunned and screaming in the street: A truck going 50 miles per hour had hit him at the corner of NW 6th Street and the Cornhusker Highway.
"I stood up, and my left foot was backward," he said.
Then, Joe passed out and fell onto the asphalt. He woke up again when six men held him down while another man turned his foot around. Marino also had a broken femur and collarbone and cracked ribs.
Around that time, the voice of God cut through the adrenaline, pain and THC.
"You need to come and trust in the work of my son Jesus," Marino heard that day. "Otherwise, your life is going to be destroyed."
There, in that bloody, busted moment, Joe embraced the gospel. Hours after the wreck, Joe woke up in a hospital bed. The new believer was facing his old life: his girlfriend and his wife looked back at him as machines beeped and medicine dripped.
"Honestly, in that moment, I thought I was in hell," he says now.
Devastation fades as discipleship reforms
His salvation might've been instant, but the tattooed man's physical healing and inner transformation took much longer. Still, he followed the Lord, his faith proving deeper than his foxhole.
His father, Carl — an alcoholic who'd abandoned Joe at five — demonstrated that two are better than one. Carl had trusted Christ a few years before Joe's wreck. So, he and Joe pursued the long, difficult turnaround of living to please the Lord.
After some time, Joe started teaching his daughters how to love God and love their neighbors. When his five-year-old daughter came to Christ, she started talking about Jesus with her mom, Christy, who had divorced Joe after the wreck.
Then, Christy came to faith, and the Lord restored the Marinos' marriage. In 2008, Joe and Christy moved to Hastings, Nebraska. At the time, there existed a veneer in Hastings that everyone's life was fine, and Hastings' downtown was regaining its vibrancy.
What I want more than anything else is for people to hear from Jesus for themselves.
Joe Marino
But the Marinos have seen a fuller picture: suicide, drug addiction and teenage pregnancies shatter lives throughout Hastings. By 2012, the Samaritan woman who met Jesus at the well inspired the Marinos so much they started a church named The Well. The Marinos drew motivation from the power of the woman's faith to reach her neighbors.
"They come to Jesus and say, 'Hey, we no longer believe because of the women's testimony, but we believe because we heard for ourselves,'" Marino said. "That is the crux of it for me. What I want more than anything else is for people to hear from Jesus for themselves."
Outlaws don't have to be outcasts
Three years ago, that desire fueled a ministry to the least-reached of the motorcycle clubs. He wanted the 'one percenters' of the motorcycle community to encounter the love that delivered him at hell's doorstep.
Marino explained that the label of some bikers as one-percenters began when the American Motorcycle Association created one set of racing rules for everyone. A small number of bikers said they'd build their bikes how they wanted and race how they wanted, leading to the idea that they were outlaws.
In reality, they are one-percenters compared to 99% of AMA members who agreed to the rules. But pop culture and reality in the last 75 years changed their image through films like Easy Rider, songs like Born to be Wild and the fact that a few do act outside the law.
That culture required Marino to watch with his eyes, listen with his ears and learn to be a Christian in the midst of their village. Any friendship among bikers requires earning trust. So, he started by doing everything he could to form friendships with those bikers.
Now, he's the president of Ransomed Saints, a motorcycle ministry emphasizing relationships rather than blessing bikes or handing out Bibles. TJ Botts, Dominic Randall, Wil Dittmer and Jordan Annen are in his crew.
Learn the rules, respect the process
To earn bikers' trust, the Ransomed Saints embrace the motorcycle community's protocol. Outsiders must learn and follow the established ways and code of conduct among the biker community.
Bikers wanting to have a new club or wear patches must get permission from the dominant club, which varies from state to state.
"We wanted to respect the process," he said of integrating into the life of one-percenters. "History is really, really important in the biker lifestyle."
So, the Ransomed Saints stayed humble and courteous, even persevering when told to join other 'God squads' and stop trying to do their own thing.
The only territory I'm after is peoples' hearts.
Joe Marino
Eventually, the dominant group sat down with Joe so he could let them know what he wanted to do. After the conversation, the group supported the creation of the Ransomed Saints.
Then came one last critical question: 'Are you trying to claim Hastings as your territory?'
"The only territory I'm after is peoples' hearts," the 45-year-old answered, creating confusion about his meaning.
He clarified that he meant the territory of the human heart, explaining how as a Christian, he wanted people to experience something better in how they think, what they want and who they are.
'You guys have our blessing,' the club leader responded. 'Put your patches on.'
Faithful presence leads to private funerals, family prayers
Just receiving permission to make patches, create cuts and exist as a riding club demonstrated God's activity to Marino. On top of that blessing, the Ransomed Saints have earned enough trust that bikers invited them to weddings, birthday parties, funerals, bike shows and rallies.
"We're talking about incarnational community," Marino said. "We really want to emulate the aspects of the biker culture that we can."
Acknowledging a motorcycle ministry like this is a 'slow burn,' Marino said. They pray for every face, name and club they know. It's become more common for these men to ask Marino and his crew for prayer as they ride home. One man said he wanted his marriage to be OK when he got home.
"It's real life-on-life ministry," Marino said. "We want to build relationships with guys, understand their story."
Outlaw bikers may find God's wrath attractive
Marino has learned there are connection points between the Ransomed Saints and their fellow bikers. For example, he said every club chooses a charitable cause to support because they care about justice and doing good things.
As an expression of faith and respect for outlaw culture, the Ransomed Saints embraced the fight against human trafficking. Marino hopes a fall fundraising ride will unite all the clubs to show human traffickers there are patches protecting the state's women and children.
"I think there's something attractional to them when they realize that God is a God of wrath for some of the same reasons I feel anger," Marino said.
He also recognizes that some one-percenters don't reject or disrespect many Christians. Yet Marino knows many one-percenters don't find Christ before life feels like hell. That makes him dream, at least a little, that the form of ministry the Ransomed Saints pursue would expand beyond Hastings.
"My hope ultimately is that, through those connections, maybe our denominations and networks would see a very viable motorcycle ministry," he said. "I would love to see this kind of ministry expand across the world."

Riding tight until every biker earns a full patch
Some Christians have told Marino they won't ride with his crew. Earning a Ransomed Saint patch requires deep trust, brotherhood and discipleship. By the time an outsider's gone from supporter to hang around to prospect to full patch, they've been tested publicly and privately to prove they know the gospel.
The Ransomed Saints memorize the Apostles' Creed and Matthew 16:18 to earn patches that describe core Christian beliefs. Another patch shows that the biker has memorized Ephesians 3:18-19 and 1 Peter 1:18-19, the verses that inspire the ministry's name.
The club's five members invested a few years to earn their patches. Now, they ride tight, even at high speeds around curves.
"We ride hard and fast," Marino said. "We also ride side-by-side. You're trusting the guy next to you if you're riding 90 miles an hour with somebody on your side."
These Ransomed Saints can handle the heavy metal thunder roaring out a tailpipe. Plus, they're ready to tell bikers only inches from death that the kingdom of God can come upon them, even near the gates of hell.
"We could take a guy from an unbelieving situation, as an unbeliever, and we could move him through our process of earning patches to where he becomes a full-fledged believer, and we trust him to share the gospel," Marino said. "That's when you get your back patch."
---
Ben Greene, Pastor & writer
Ben Greene is a freelance writer and pastor currently living in Massachusetts. Along with his ministry experience, he has served as a full-time writer for the Associated Press and in the newspaper industry.
Additional articles by Ben Greene