Church starts with $137 and peace of mind
Ben Greene
Pastor & writer
Church planting & multiplication
---
Pastor Patient Matadi could easily count how much cash The Garage Church had in the early days.
"We had $137 when we started," the Fresno pastor said. "God was already giving me peace of mind. So, we were going to start with what we had."
Fifteen courageous people embraced Matadi's adventure of starting a church, even though some say church plants quickly need $300,000. This team first gathered in a garage in 2021 as they clarified their vision, mission and ministry goals.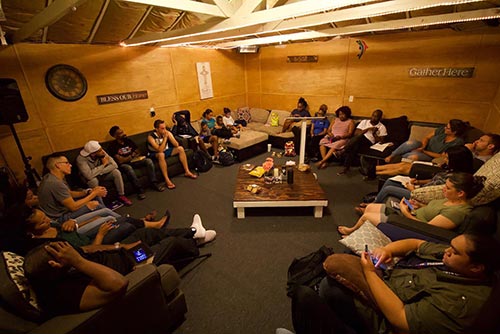 During those discovery moments, someone asked Matadi about the church's purpose. He answered the question in gospel terms, prompting the person to declare the church restores lives like a garage restores cars.
That message stirred people, so a few weeks after the core team started worshiping together, they had 25 people. By summer 2021, 50 people filled the garage as San Joaquin Valley temperatures reached 115 degrees. With attendance climbing as quickly as the mercury in local thermometers, it was time to find another location to gather.
But what could a group that started with $137 afford?
God's motivation is also heating up
A closed Mexican restaurant had immediate availability except for one massive challenge: someone had broken in and heavily damaged the building. Construction companies estimated repairs would cost between $85,000 and $125,000.
So, the group depended on the Lord, who promised to build his church, and saw Christ go to work.
First, a construction contractor who's also a church planter supplied four workers for the renovation. The contractor merely asked the church to pay the crew by the hour, a generosity that saved tens of thousands of dollars. Then, adding blessing to blessing, someone wrote a check for $3,000 to pay the crew.
Cameron Lamanuzzi, who serves young adults at the church, was riding with Matadi when another miracle happened. They drove to the restaurant with only enough money to pay the crew through that Friday. Minutes later, another contractor called: he could start work that coming Monday for no charge.
Related: Tennessee church plant worshiping in converted Mexican restaurant trying to mirror New Testament church
The next improbable gift of God came when The Garage Church needed lumber and 2500 square feet of carpet. First, Matadi went to a lumber store where the store manager arranged a $4,000 order. At that point, Matadi said the new church needed some time to get the funds together.
While the pastor was planning and pursuing, God's faithfulness kept flowing. Days later, when Matadi returned to the lumber store, the manager pointed to the already-stacked wood and shocked the pastor.
"The guy said, 'Everything you see in the corner there is yours," Matadi recalled. "I saw God doing a lot of things during that moment."
But God wasn't done yet.
A carpet installer quickly realized the church couldn't afford his estimate. But he still brought about the third miracle. Instead of moving on to other business, he spoke to his neighbor, a pastor.
The installer told his neighbor of Garage Church's need. At once, the pastor agreed to fund the labor, even though he'd never met Matadi.
Matadi only realized this work of God when the carpet installer asked when he could come by to do the job. Again, the pastor shared he needed more time, pointing out the church's limited resources.
Instead, the installer said he would do the whole church, not just the children's area. The installer also mentioned that a recently completed project had generated lots of unused carpet available at a low price.
'Don't worry about my pay,' the installer told Matadi. 'Somebody is going to pay me.'
Related: Your generosity to the launch offering makes miracles possible for new churches.
Why all these miracles?
More than 600,000 people live in Fresno, California's fifth-largest city. The area offers blue- and white-collar work and community to its multiracial, multicultural residents.
The city has 50 group homes where hundreds of teenagers and children recover from troubled families. In November, Matadi baptized one of these teenagers who started attending the church and became a new believer last year.
They first worshiped as a new congregation on Easter Sunday, weeks after moving into the renovated restaurant. Since Easter, the community has been welcoming the new church.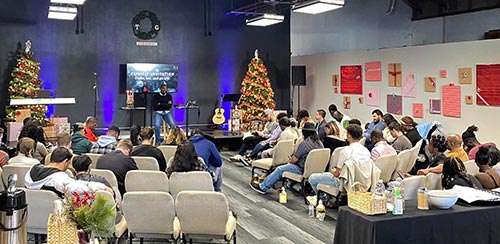 For example, the principal of a local elementary school welcomed church members to serve alongside an organization that creates kids' clubs. All these miracles give The Garage Church a foundation for sharing Christ with many in Fresno who need him.
"I want the neighborhood where we are now to know the church is not a church in their community but a church that is of that community," he said. "We want to be present in their lives so they realize we are people they can count on."
Related: World Shakers Church knows they are salt and light.
Fresno needs churches for the younger generation
Many in Fresno live with an openness toward a Christian worldview, Matadi explained, even if they aren't regular church attendees.
On the other hand, the younger generation isn't making a deep connection with Christ or many of the city's churches. Yet Matadi said the congregation had developed an influential outreach to the many young adults who come to Fresno for college. A few dozen young adults regularly come on Friday nights for discipleship.
So far, Christ has drawn about 100 people to the new Converge church, where the average age is 23. Starting a church that ministers to young adults who will form the future Fresno motivates Matadi and several others. They're seeing the growth spring up as God does a new thing.
"I love to invest in them," he said. "They represent the future of our nation, the future of our families, the future of our churches."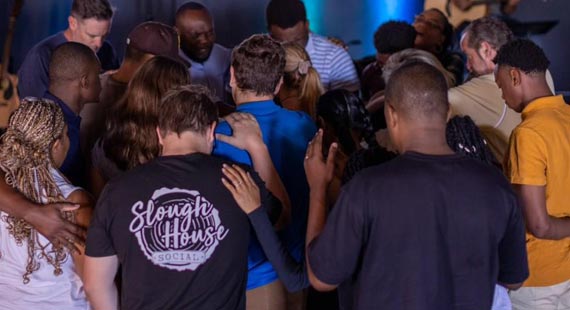 Lamanuzzi is one of those young adults. First, Matadi discipled the former Fresno State football player. Now, Lamanuzzi leads the young adults' ministry at The Garage Church. He said he could go on all day about what God has done.
"I've seen people go from not being a Christian to putting their faith in Christ to getting baptized to serving in the community and the ministry in the year since we started," Cameron said. "We are reproducing ourselves, the Holy Spirit into people rather than hoarding the Holy Spirit."
That transformation from unbelief to disciples is what God can do, even when there's only $137 in the bank.
"It was just miracle after miracle after miracle," Matadi said of God's actions.
Converge's 10 districts have committed to deploying 312 church planters before 2026. Read more inspiring church planting stories and learn about the goal to send out 312 church planters in five years.
---
Ben Greene, Pastor & writer
Ben Greene is a freelance writer and pastor currently living in Massachusetts. Along with his ministry experience, he has served as a full-time writer for the Associated Press and in the newspaper industry.
Additional articles by Ben Greene